Inside Hoops: The Web's Most Popular Basketball Site
Welcome to Inside Hoops, the most popular NBA basketball website in the world aside from the league's official site.

Founded in 1999, InsideHoops.com, a professional, respected, experienced source of basketball news, views and analysis, steadily grew to become the hottest basketball website on the planet. Updated several times a day, 365 days a year, we provide key essentials like scores and stats, complete news and the hottest rumors and gossip, expert analysis from press row, great fan editorials from the living room sofa, and exclusive interviews with the stars of pro and amateur basketball, and complete, total hoops coverage.

Our primary focus is NBA basketball. Our coverage is simply awesome. We also have a daily college hoops roundup and key NCAA features, occasional high school and streetball coverage, daily WNBA roundups, and the hottest basketball message boards in the world. Google "nba forum" or "basketball forum" and check out who's #1. It's us. And as you can see those are real results, not "sponsored."

Ranked #1 on Google for "Basketball News" out of over 70 million results, close to #1 for "nba news," #1 for "hoops," "#1 for "high school basketball," close to #1 for "streetball," close to #1 for "nba basketball," "wnba basketball," nbdl basketball," "cba basketball," "usa basketball" and just about every top tier search that matters, InsideHoops.com serves up hundreds of thousands of daily page views. We dominate online basketball coverage.

Everyone that matters in the world of pro basketball reads InsideHoops.com or knows someone who does. This isn't lip service. Sports Illustrated called us "a haven for pro basketball junkies" in their December 25, 2000 issue. Over the years, we've been named "Best of the Web" by Forbes, been praised by Yahoo Internet Life, been recommended in Newsweek (March of 2005), and shouted out or quoted by pretty much everyone that matters.

If InsideHoops.com mentions something, the hoops universe knows about it. Quickly.

InsideHoops.com has been quoted as a source by the Associated Press, SportsTicker, New York Times, New York Post, New York Newsday, Boston Globe, Philadelphia Daily News, Minneapolis Star Tribune, Arizona Republic, Chicago Sun-Times, Chicago Tribune, Kansas City Star, Los Angeles Times, Seattle Post-Intelligencer, Jerusalem Post and dozens of other major papers. On the radio we've been interviewed and/or quoted on ESPN radio in countless cities, famous WFAN in New York, ABC radio across most of the country, BBC radio around the world, Team Radio in Canada, and elsewhere. On television we've been on VH1 "Fabulous Life of Hoop Superstars," quoted on NBA TV, TNT television WB channel 11 in New York, and elsewhere. On the web, almost every site that matters has referenced Inside Hoops and will continue to do so.

Go Inside Hoops every day. Tell your friends to do the same.

The Founder of Inside Hoops


Jeff Lenchiner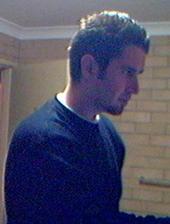 Born and raised in New York City, Inside Hoops founder Jeffrey Lenchiner attended Manhattan's world famous Fiorello H. LaGuardia High School of Music & Art; known as the "Fame" school, where he excelled in math and science while developing as a musician. Jeff shared hallways with Jennifer Aniston, Adrien Brody, Carl Payne ("Cockroach" from Cosby Show), Adrian Grenier (Vince of HBO's Entourage), Rory Cochrane (Dazed and Confused, Empire Records) and shared classes with Omar Epps, Marlon Wayans and many more stars. Other alumni of the school are Al Pacino, Wesley Snipes, Billy Dee Williams, Hal Linden, Ben Vereen, Suzanne Vega, Eartha Kitt, Janis Ian and Bela Fleck.

In college, Jeff focused on electrical and mechanical engineering, and advanced mathematics.

Jeff's main mission after his college days was to travel as much as possible. He spent a year and a half repeatedly working just enough to travel Europe and managed to circle the Western part of the continent about three times, visiting dozens of famous cities and towns.

After a few years of working for financial firms, Jeff got into journalism and began writing basketball stories for a major overseas magazine. In the past he had also hosted radio shows, doing music and news. Jeff also gathered public relations experience while still a high school student, working summer jobs for one of the most famous music meccas in the world, Tanglewood Music Center, summer home of the Boston Symphony Orchestra.

In late 1999, Jeff got the travel bug again. And took action. In early 2000, over the course of a few months he exited his job at a major financial firm, bought a laptop, got out of his NYC apartment lease, started Inside Hoops, and flew to the other side of the world -- Australia. At the time, Jeff had no idea if the trip would last one month or 20 years. He wound up sending six months in Australia, traveling the East coast of the continent from bottom to top, dividing his time between building InsideHoops.com up and having fun hiking, meeting people, learning to surf in New South Wales and exploring the Great Barrier Reef in Queensland. Life as a beach bum in paradise. It was beautiful.

In late 2000 Jeff left Australia and lived in Los Angeles for almost a year. By then, InsideHoops.com had a solid readership and a terrific reputation. Jeff began doing radio interviews. The website became a trusted source for fans, media and basketball people across the country.

In May of 2001, Jeff returned to New York.

Now, in 2007, Inside Hoops is one of the biggest and most important sports websites in the world.

Jeff is a regular guest on radio stations around the country and has been interviewed on ESPN radio in multiple cities, WFAN radio in New York, ABC radio across much of America, Team radio in Canada, BBC heard worldwide, and dozens of other major stations. He was also one of the main experts interviewed on VH1's "Fabulous Life of Hoop Superstars." He's a recognized NBA basketball expert. As of late 2006, Jeff also writes for HOOP, the official magazine of the NBA.

Jeff also wrote the majority of All-Star player profiles for the official 2007 NBA All-Star Weekend event program. Of the 24 All-Stars that will play in Las Vegas in February of 2007, he wrote about 20 of the profiles.

Jeff knows the NBA as well as anyone in the world, and he's a great intreview. Funny, intelligent, up-to-date, unbiased and always nailing the points that matter, with plenty of useful extras for added perspective, Jeff rocks any airwave that brings him on.

To get Jeff on your radio or television show, email editor at insidehoops dot com. It's helpful to reference him directly in the subject line.



Inside Hoops Interested in Partnerships



InsideHoops.com sells ads, and we're also always interested in partnerships. We can do promotional exchanges, share our content, create customized content to suit your needs, and just about anything else. Player interviews. Feature articles. Anything you need. There's no limit. Contact us for more information.



Link to InsideHoops.com



We encourage you to create links on your site to www.insidehoops.com -- permission granted. We prefer that you link to "www.insidehoops.com", but it's OK to link directly to specific pages or sections of the site. For permission to reprint a feature or anything else, contact us.



Write For Us



InsideHoops.com has an open submission policy. Anyone who knows basketball and can put a sentence together is invited to contribute articles to our site. Content credited to "InsideHoops.com" comes from our professional staff, but we also post plenty of editorials and additional articles from educated fans, professional writers, freelancers and others. Write for us and you'll be read by tens of thousands of fans over the course of a few days and by over 125,000 different fans after about a month.



Advertise on InsideHoops.com



If you want to reach a basketball readership, you absolutely need to be seen on InsideHoops.com. If we promote something, everyone that matters in basketball -- the most hardcore fans, NBA players, famous streetballers, agents, other media members, announcers, public relations people, and others will hear about it, either by reading our site, or getting told about it by their friend or co-worker who does.