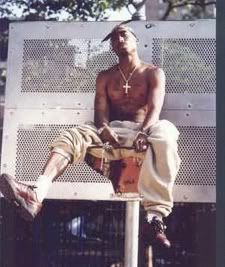 Afeni Shakur postponed plans to mark the 10th anniversary of her son Tupac Shakur's death in Soweto, South Africa.
Shakur planned to commemorate Tupac's death today (Sept. 13) by scattering his ashes in Soweto to honor the township's historic struggle against Apartheid in South Africa.
"My family and I regret that they must postpone the trip to South Africa to a later date, due to personal reasons," Afeni Shakur said. "We understand the work and time that everyone has put into making this trip possible."
During the eight-day trip, Afeni Shakur was scheduled to meet with leaders like Nelson Mandela, Winnie Madikizela-Mandela, Miriam Makeba and others. She had also planned to visit various hospitals and orphanage.
According to sources, a memorial park, an art museum and an amphitheater in Soweto may also be constructed in the slain rapper's name.
Afeni Shakur said the ceremonies will now take place June 16, 2007, on Tupac's 36th birthday.
In related news, vocals from Tupac Shakur could be featured on a new track on Foxy Brown's upcoming album Black Roses.
Sources told AllHipHop.com that Brown recorded a song tentatively titled "Legends," which was produced by The Neptunes/Timbaland.
The track features an all-star line up that includes Slick Rick, Doug E. Fresh and Big Daddy Kane, alongside Tupac's vocals. Verses by Nas and Roxanne Shante expected to be added this week, the source said.
Representatives for Foxy Brown's label Def Jam, had no comment on the track.
http://allhiphop.com/hiphopnews/?ID=6135