| | |
| --- | --- |
| LALakerFan4Life | 04-04-2007 09:09 PM |
---
Tha Outlawz Hit Bahrain; Tupac Film Festival Dates Announced

Quote:
---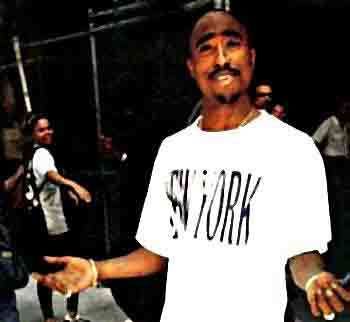 The memory of slain rap star Tupac Shakur will be honored overseas, in a tribute concert headlined the by the deceased rapper's close affiliates the Outlawz.

The New Jersey-based collective will take the stage for the Tupac Still Breathing Tour, which kicks off May 3 at the Marina Club in Manama.

The outing is promoted by DJ Outlaw Productions, the which bills itself as the only Hip-Hop organization in Bahrain .

"The Tupac Still Breathing Tour starring the Outlawz live in concert is an exceptional event that will honor the memory of the music Legend Tupac Shakur," organizers told the Gulf News. "This tour is just another attempt for not only the Outlawz but also for DJ Outlaw Productions to spread the legacy of Tupac in this region, and to keep Tupac's memory, achievements and message alive all over the world by performing most of Tupac's classics."

In addition to the Outlawz, fans will see turntablist DJ Domination and rapper Young Blaze.

In other Tupac news, The Tupac Amaru Shakur Foundation (TASF) is currently taking submissions for its annual Tupac Amaru Shakur film festival.

The event takes place at 2 p.m. Nov. 10 at the Tupac Amaru Shakur Center for the Arts in Atlanta.

Last year's festival attracted global attention as attendees viewed the documentary The Hip Hop Project, a documentary produced by Bruce Willis and actress/rapper Queen Latifah.

"We are looking to grow this annual event and create a forum for filmmakers of all ages to showcase their work," said TASF president and founder Afeni Shakur.

A jury of established professionals will review and judge the entries and select one film to be screened in the "Selective Choice" film category. The winning filmmaker or team will speak to the audience at the Center following the screening.

Deadline for submissions is Oct. 1. Applicants must turn in a completed application form as well as a PG-13 or lower-rated film that is 90 minutes in length or less (DVD or VHS only). Processing fee is $35, nonrefundable. To download an application and view the official rules and requirements, visit www.TASF.org.

Completed entries can be sent to:

The Tupac Amaru Shakur Center for the Arts
5616 Memorial Drive
Stone Mountain, GA 30083
---
http://allhiphop.com/hiphopnews/?ID=6897
All times are GMT -4. The time now is

08:42 AM

.
Powered by vBulletin Version 3.5.4
Copyright ©2000 - 2017, Jelsoft Enterprises Ltd. Terms of Use/Service | Privacy Policy