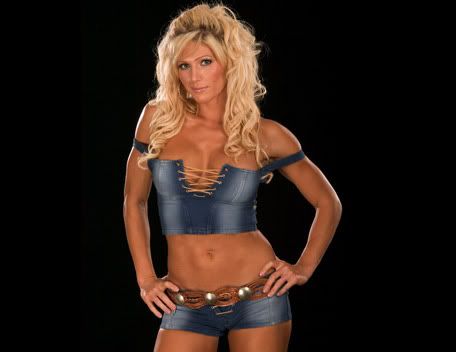 RAW Diva Torrie Wilson opened up a MySpace page a few weeks ago at
www.myspace.com/torries_space
. This page is legit as there is a photo of her holding up a piece of paper of the page's URL. Victoria's MySpace page has Torrie on her "Top Friends" list. Also, one of the WWE's employees helped Torrie put the page together not to mention that he regularly takes exclusive photos of her backstage at WWE events for the page. He also takes photos and retrieves things for the WWE auction site.
Anyways, she posted this blog entry regarding her impending divorce from Billy Kidman on her MySpace page earlier tonight:
Hey everybody!

Well, I have decided to let you in on a secret that I have been holding in for much too long. I am very heartbroken to say that I am in the stages of a divorce. It makes me incredibly sad to say this and I hope that you will respect me and my privacy at this really difficult time. This is just something that has been eating at me for some time now, and I feel it's best to hear it straight from me rather than read it somewhere else. I think I have made things harder on myself by pretending that everything is fine and dandy to the outside world. I just pray that by opening up about this now, it might be easier to move forward in my life journey.

I just want to tell all of you that you have helped me so much more than you will ever know with your kind words without even knowing it. When I am feeling really down, reading the nice things you have to say has brought a smile to my face. That truly means the world to me and I will never forget it.

I really do love and appreciate all of you......sunny skies ahead!
Also note, it seems as though that Torrie pulled the blog soon after she posted it online as its no longer on her page. It was on the page at least past 8:00 PM EST tonight.
http://rajah.com/base/node/6567