8 Posters
3 Judges
3 Rounds
24 Animals
Teams of 3
1 Championship cup
It's on.
//
I now need 8 posters to step up to the challenge. Who's brave enough to enter the Animal Face Off Tournament? Please put your name in, so I can begin the lottery draft to determine draft positions. There are 3 rounds of the draft, each poster has 3 picks.
OFFICIAL Draft Order
1-arkain
2-ArbitraryWater
3-Blackfrankwhite
4-Chief Keef
5-iTare
6-jaydacris
7-ISHGoat
8-Kingbeasley
JUDGES
1. zoom17
2. That_Admiral
3. kNIOKAS
4. Suguru101
Code:
RULES/STIPULATIONS/REGULATIONS



-Each contestant has 

4 draft picks
-

He 

must

 pick 

1 Super-Heavyweight, 1 Heavyweight and 1 Light-

Heavyweight. 
He must also pick 

one reserve from ANY weight class. 


Animals picked must be alive today


-

Contestants will fight each other 

3 v 3
-

A contestant 

MUST

 have all 3 weight classes in a fight


-

The reserve can be from any weight class and it's purpose is stylistic match ups.... 
Example: If the fight is in a forest, one might swap their grizzly bear for their 
Gorilla reserve because it is better suited to fighting in that environment


-

There will be 3 rounds of matchups. The first round there are 4 fights with 8 contestants.
The 2nd round is 2 fights with 4 contestants. Then the 3rd and final round, the last two 
standing fight it off to crown the winner


-

The round 1 and 2 matchups will be completely random


-

The environments in each matchup will be completely random


-

The 3 judges will give their interpretation on the fight, and who they think is the winner.
3 judges so whoever has the majority vote is deemed winner



The Environments:


African Savanna
Tropical Rainforest
Saharan Desert
Kilimanjaro Snow Peak



NOTE:

 No humans
Matchup Format:
- 3v3 (1 SHW, 1 HW, 1 LHW)
- 1 substitute
- You must always have ALL 3 weight classes in the matchup, irrelevant of substitute activity
- Strategy driven fight; meaning the animals will fight together in a cohesive unit, regardless of animal temperament/aggressiveness
- Obviously, the team that is left standing, wins. This 3v3 is a fight to the death
- There are 8 contestants, meaning 3 rounds of matchups to crown the champion
- First round is 4 matchups
- Second round is 2 matchups
- Third round is the championship matchup
- The matchups in the first two rounds are RANDOM
- The environments for the matchups in all 3 rounds are RANDOM
- The contestants in a matchup will be given a paragraph or 100 or so words to explain why their team will win the matchup, and how it will happen EG- Strategically how they will win. This first paragraph must be sent to the Arbitrator (Me) and must not be shown to your opponent.
- The Arbitrator (Me) will then post both contestants paragraphs
- The contestants will then be allowed another paragraph to counter their opponent's original paragraph argument
- The counter arguments will be sent to the Arbitrator (Me) and I will post both of them at the same time
- The Judges will then read the arguments and the counter arguments, and then they will come to a decision on who is the victor
- Obviously the arguments/counter arguments are not the only thing that determines the Judges decision. Their personal opinion is the main factor, including their knowledge on animals
- Whoever gets the majority vote from the judges, is declared the victor
ENVIRONMENT 1 - African Savanna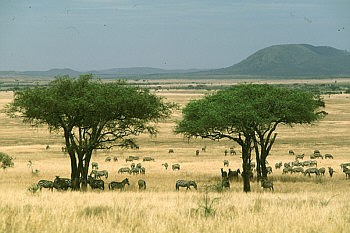 Characteristics:
Flat plain with little to no trees. Ground is mostly shrubs and areas of medium to long grass. Lots of space, no mobility hindrance for large animals
ENVIRONMENT 2 - Tropical Rainforest
Characteristics:
Unpredictable, uneven, small confined space. A lot of tall trees. Dense vegetation. An environment that is definitely suited to the smaller, more mobile animals. Larger animals will find the environment constricting of mobility. Areas of water/small to moderate water bodies.
ENVIRONMENT 3 - Saharan Sand Desert
Characteristics:
Sandy environment floor consisting of huge dunes and peaks and waves. Also features areas of flat sand plains. Heavier animals will find that their mobility and movement is much slower due to the sand and being weighed down. Lighter animals will manage much better movement wise.
ENVIRONMENT 4 - Kilimanjaro Snow Peak
Characteristics:
A flat snowy mountain peak. Elevation: 5,895 m. Snow slightly slows down heavier animals. Flat peak has steep drop offs all around it. Steep drop offs create a limited space.
Code:
EXAMPLES OF WEIGHT CLASSIFIED ANIMALS



SUPER-HEAVYWEIGHTS:


African Elephant
Asian Elephant
White Rhino
Black Rhino
Greater one-horned Rhino
Sumatran Rhino
Javan Rhino
Common Hippopotamus
Pygmy Hippopotamus 
Giraffe
Walrus



HEAVYWEIGHTS:


Gaur
Salt Water Crocodile
Polar Bear
Grizzly Bear
Andean Bear
North American Black Bear
African Lion
Asiatic Lion
Cape Lion
Barbary Lion
Siberian Tiger
Bengal Tiger
Indochinese Tiger
Malayan Tiger
South China Tiger
Eastern Silverback Gorilla
Western Silverback Gorilla



LIGHT-HEAVYWEIGHTS:


Spotted Hyena
Striped Hyena
Brown Hyena
Jsguar
Leopard
Cougar
Panther
Mountain Lion
Komodo Dragon
Panda Bear
Red Wolf
Grey Wolf
English Mastiff



NOTE:

 These lists are not the only animals you can chose. Just a guide for the weight classes. You may chose any living animal today that you think fit's one of these weight classes.
Code:
DRAFT



Round 1:


1-arkain - African Elephant (Super-Heavyweight)
2-ArbitraryWater - Asian Elephant (Super-Heavyweight)
3-Blackfrankwhite - Spanish Fighting Bull (Heavyweight)
4-Chief Keef - Bengal Tiger (Heavyweight)
5-iTare - White Rhino (Super-Heavyweight)
6-jaydacris - Cape Buffalo (Heavyweight) 
7-ISHGoat - King Cobra (LHW)
8-Kingbeasley - Common Hippopotamus (SHW) 



Round 2:


1-Kingbeasley - Grizzly Bear (HW)
2-ISHGoat - Black Rhino (SHW)
3-jaydacris - Jaguar (LHW)
4-iTare - Silver Back Gorilla (HW)
5-Chief Keef - Komodo Dragon (LHW)
6-Blackfrankwhite - Javan Rhino (SHW)
7-ArbitraryWater - Siberian Tiger (HW)
8-arkain - Polar Bear (HW)



Round 3:


1-arkain - Silver Back Gorilla (Sub HW)
2-ArbitraryWater - Leopard (LHW)
3-Blackfrankwhite - Cheetah (LHW)
4-Chief Keef - Greater one-horned Rhino (SHW)
5-iTare - African Lion (Sub HW)
6-jaydacris - Giraffe (SHW)
7-ISHGoat - Grolar Bear (HW)
8-Kingbeasley - Mountain Lion (LHW)



Round 4:


1-Kingbeasley - Black Mamba (Sub LHW)
2-ISHGoat - Gaur (Sub HW)
3-jaydacris - Saltwater Crocodile (Sub HW)
4-iTare - Chimpanzee (LHW)
5-Chief Keef - Black Bear (Sub HW)
6-Blackfrankwhite - Gray Wolf (Sub LHW)
7-ArbitraryWater - Striped Hyena (Sub LHW)
8-arkain - Spotted Hyena (LHW)
ROUND 1 MATCHUPS:
Matchup 1: ArbitraryWater vs Blackfrankwhite
Environment: African Savanna
Matchup 2: Arkain vs jaydacris
Environment: Kilimanjaro Mountain Peak
Matchup 3: ISHGoat vs Chief Keef
Environment: Kilimanjaro Mountain Peak
Matchup 4: Kingbeasley vs iTare
Environment: Saharan Sand Desert
Final Teams
Arkain
- African Elephant
- Polar Bear
- Western Gorilla
- Spotted Hyena
ArbitraryWater
- Asian Elephant
- Siberian Tiger
- Leopard
- Striped Hyena
Blackfrankwhite
- Spanish Fighting Bull
- Javan Rhino
- Cheetah
- Grey Wolf
Chief Keef
- Bengal Tiger
- Komodo Dragon
- Greater one-horned Rhino
- Black Bear
iTare
- White Rhino
- Eastern Gorilla
- African Lion
- Chimpanzee
jaydacris
- Cape Buffalo
- Jaguar
- Giraffe
- Saltwater Crocodile
ISHGoat
- King Cobra
- Black Rhino
- Grolar Bear
- Gaur
Kingbeasley
- Common Hippo
- Grizzly Bear
- Mountain Lion
- Black Mamba