the first of a few i watched over the past week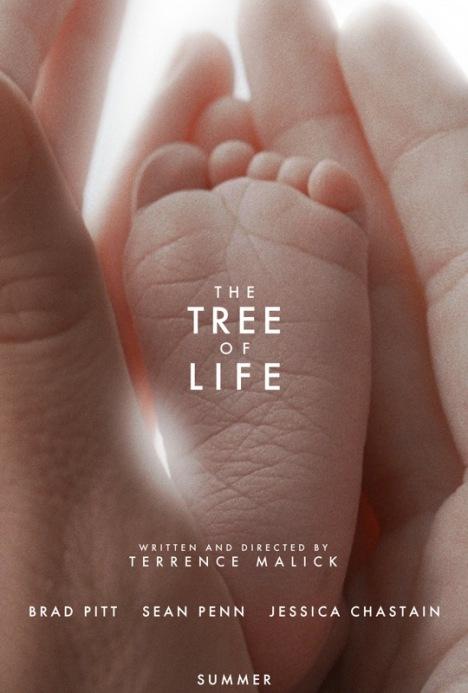 well. damn. this was all over the map. apparently it's doing quite well critically, which is surprising. it seems like the sort of movie that should split its audience, like The Fountain. i find it odd that it hasn't.
breaking down this movie isn't as easy as it is for most, but i think there's a pretty clear line to be drawn between two very distinct styles of filmmaking that didn't coalesce quite the way i expect the auteur would have liked. on the one hand, you've got an amazing story of a simple family with a few very well sketched relationships between a typical stern father and his kids. and on the other hand, you've got beautiful clips of natural settings (of course they're breathtaking, it's a big budget movie) laced with abstract monologues.
usually when a director throws two styles like that at you, there's going to be a connection, whether obvious or subtle. in this case, it was just waaaaaay too subtle. i definitely believe that Malick had a vision and a deep set of ideas he wanted to convey, but in the end, he just didn't do a very good job spelling it out for the audience. art can and often should be left up for varying degrees of interpretation, but particularly in a medium like film, there has to be a little hand holding. otherwise you just get a collective 'wtf?' at the end. and that's exactly what happened. stock footage of waves crashing against a beach and stars exploding in space can be meaningful to you, but when it's intersliced into a narrative at seemingly arbitrary intervals with no apparent ties, it can bore an audience. and while i wouldn't say i was bored exactly, i certainly wasn't drawn in. i was just waiting for the movie to return to something coherent. the voice over monologue weren't much better. very loose fitting themes, nothing to really suggest a real point... just flowery 'faith' poetry. nice for a while but after 15 minutes? you just want it to f*ck off. lol
the detailed 'history of the universe' expose was pretty well done, if a little heavy handed. i loved the evolutionary scenes, particularly of the wild animals (swimmers, dinosaurs, etc) sort of sniffing around, cautiously investigating. amazing on the big screen.
had it been a little more focused, it would've sat as one of the best of the year so far for me (of what i've seen, which i suppose hasn't been that much). in the end, the coherent sections were enough to overcome the *********ory indulgence of the rest. the narrative was terrific. the shaky doc style of filmmaking, ala Wrestler, was effective. Pitt was really good, the lead kid was phenomenal as were the other two, and the mom... didn't really have much to do, but she was serviceable for the minor role. her religiosity probably wasn't brought out enough except for in the monologues, which as i said, weren't very clear. watching the growth of the children was truly magnificent though. a simple scene of them running around and playing turned into a masterpiece, once set against the grandiose context of the rest of the film. the score was also incredible and perfectly consistent with the film's feel. i loved the duet between Pitt and his kid.
so all in all, this movie split me. there was so much that it did right, and so many facets that just weren't up to par. in Ebert speak i'd give it a single thumb up, meaning i recommend you see it. but don't build any expectations based on the trailer. you'll probably be let down.
7/10
edit: i completely forgot about Sean Penn's character. i have no real words for what the hell that was supposed to be. refer above for my thoughts. let's just say it, uhh, wasn't very clear.