Since Celticforce said this board is dying down a little, I am gonna try to do my part to add to the Bulls forum. I figured I give short and quick looks into every player on the Bulls and how their season has gone so far.
Derrick Rose
-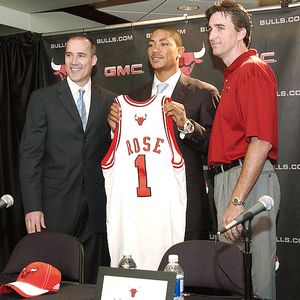 Season stats - 18.5 ppg 3.9 rpg 6.0 apg 1.2 spg 2.8 TOpg.
Best Individual Game - 26 points, 10 rebounds, 5 assists (9-17fg)(8-9ft) @home vs. Atlanta 113-108 Loss
What can you say about the kid???? We have a superstar in Chicago finally and he has had LITERALLY 1 bad game as a pro against Portland. As the team continues to get used to him, he will only explode further onto the NBA scene. By years end his assists numbers will continue rise and will end up at around 7.5-8.0 apg. Look for his scoring and rebounding numbers to stay close to where they are now. He will get rookie of the year, and an all-star appearance is a long shot, but we know he is already an all-star 20 games into his rookie season. This kid was born in 1988... wow, didn't take him long to get on. He is truly the franchise.
Ben Gordon
-
Season Stats - 20.4 ppg 3.4 rpg 3.9 apg 1.9 3pm/pg
Best individual Game - 35 points 4 assists 2 rebounds (12-21fg)(2-3 3pt)(9-10 ft) @home vs. Dallas 98-91 Win
Ben is having his best season as a pro right now in 08-09. No he will never be a good defender or any taller, nor will he ever stop taking obscene shots from anywhere on the floor, but he can flat out score for a team that seriously lacks scoring punch or low post scoring. BG has still been a tiny bit inconsistent, but only scored 15 points or less in 5 games, and never scored in single digits. He basically above anyone else needs to learn how to play with Derrick Rose. He should stop concentrating on making his own shot and concentrate more on letting Rose do all the work for him. As long as D Rose is getting doubled by defenses Ben Gordon can absolutely reign from the perimeter.
Luol Deng
-
Season Stats - 13.8 ppg 5.0 rpg 1.5 apg 1.2 spg
Best Individual Game - 26 points 4 rebounds 4 assists 2 stls (11-19fg)(4-6ft) @Home vs. Washington 117-110 Win
Luol is struggling mightily this year SO FAR. He seems to have no idea where he fits in the offense, and because of that isn't giving himself a chance to succeed at all. I think we can all agree Luol isn't the player a lot of us Bulls fans pegged him to be, but he can definitely do 18/7 and i think that's fair to say. It's too late to take back all the money were giving him so, while Luol is a Bull we need to get that 18/7 production out of him. Its very possible he is the foremost member of the Bulls having the roughest adjustment to Derrick Rose than any other. Luol isn't selfish by nature, but it appears hard for him to understand, that throughout the course of a 48 minute NBA game, Derrick Rose WILL get you involved. Deng takes bad shots frequently and his shooting percentage and points per game reflects that. He has played a lot better in the last two games, finishing with 21 and 26 points. I am not giving up on Luol yet. If he can trust Rose and the offense as a whole becomes completely unselfish, he'll be back around 06-07 production at least.
Drew Gooden -
Season Stats - 12.4 ppg 8.8 rpg 1.3 apg
Best Individual Game - 18 points 16 rebounds 2 assists 1 blk (8 off boards*)(7-14fg)(4-4ft) @Golden State 115-100 Win
Drew Gooden has been for the most part a bright spot for the Bulls. He is w/out doubt their best low post threat, and more so the only post threat with a sprinkle of Gray or Tyrus. The only real beef I have about Drew's game is his inconsistency. Some games he comes out of the gates hot, hitting mid range and down low shots and shows himself as a threat, which then opens up the perimeter offense. But some games he offensively never shows up at all, like 2 games ago against the Bucks finishing with 2 points. He a decent defender but is playing out of position at C, so he is almost always out sized. But his 12 and 9 average is close to averaging a double double, and if he can do that, that's good enough production for me. Hey Tyson Chandler is only averaging 8.1 points and 7.8 rebounds so far. Just trying to give perspective.
TO BE CONTINUED LATER 2nite.............