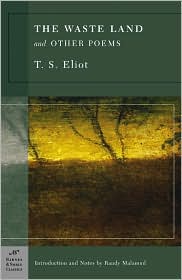 Been reading this for a while and finally finished. It contained Prufrock and Other Observations, Poems 1920, and The Waste Land.
Prufrock and other Obersvations contained some incredibly brilliant moments. The Love Song of Alfred J. Prufrock might be my favorite poem from him and bits and pieces of other poems were fantastic. Overall though the collection was inconsistent with great highs and some definite lulls.
Poems 1920 seemed to be more consistent overall and but it didn't have the same type of high moments Prufrock did. The collection seemed a bit dry and it felt like Eliot was stroking his ego during parts. My favorites here were probably The Hippopotamus or Whispers of Immortality.
The Waste Land was a masterpiece. It captured the desolation, isolations, and fears of the WWI time period and also reflected his own destruction as he wrote it while recovering from a nervous breakdown. It was dark and distant and had the type of presence and brilliance I'd expect from one of the most praised poems of the 20th century.
Some of the works were tedious because of the multiple references and obscurity of those references along with Eliot's language. However, I became accustomed to it over the length of the collections and it became less of an issue.