10: Scott Levy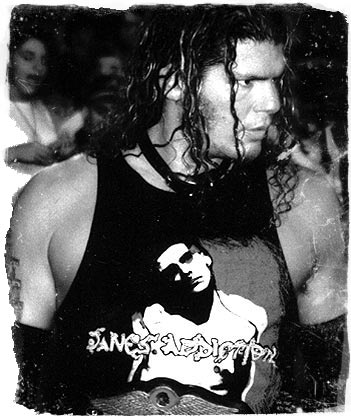 Probably better know as WCW wrestler Raven (good thing giantgonzolez is banned), Levy studied criminal justice at the University of Delaware and originally wanted to be a lawyer. He has a reported IQ of 143.
9: Geena Davis
Davis went to Sweden on a student exchange program and is now fluent in Swedish. Studied drama at Boston University, plays piano, flute, drums and organ and has an IQ of 150.
8: Steve Martin
Martin majored in Philosophy at Cal State and even considered becoming a professor at one time. His IQ is estimated to be about 152.
7: Asia Carrera
Star of over 250 skin flicks, Carrera has an IQ of 156. Before her successful porn career, at the age of 13 she played piano at Carnegie Hall and later attended Rutgers University.
6: Joey Beauchamp
Former Oxford United, Swindon Town and West Ham United soccer player and is listed on British Mensa's fact sheet under "Famous Members". IQ 159.
5: Quentin Tarantino
Violence-loving high school dropout has Quentin Tarantino has an IQ of 160.
4: Dolph Lundgren
Lundgren attended the Royal Institute of Technology in Stockholm, Sweden. He received a masters degree in chemical engineering from the University of Sydney, Australia in 1982 and the next year was awarded a Fulbright Scholarship to MIT. IQ of 160.
3: Natalie Portman
Fluent in five languages with a bachelor degree in psychology from Harvard, Portman pursued graduate studies at the Hebrew University of Jerusalem. IQ 161.
2: Jodie Foster
Foster graduated as valedictorian from the French-speaking Lycee Francais de Los Angeles, after which she attended Yale and graduated Magna *** laude with a degree in Literature. Her reported IQ is 162.
1: James Woods
Woods aced his SATs, got into MIT, but dropped out to persue acting and has a reported IQ of 180.