http://sports.espn.go.com/ncf/news/story?id=4924337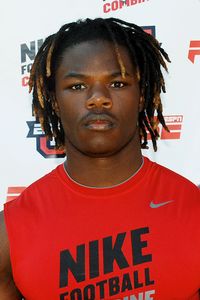 Vanderbilt recruit Bennett killed
Comment Email Print Share
By Chris Low
ESPN.com
Archive
Running back Rajaan Bennett, one of Vanderbilt's top-rated signees for the 2010 class, was killed early Thursday morning in an apparent murder-suicide at the family's home in Powder Springs, Ga.
A Tearful Tragedy for Vanderbilt
The death of Rajaan Bennett in an apparent murder-suicide hurts so many people -- in his family, at his high school and at Vanderbilt, where teammates and fans won't get to know just how special a player and person he was, writes Chris Low. Blog
The Atlanta Journal-Constitution first reported the story on its Web site.
Police responded to a 911 call about 2:30 a.m. ET Thursday from Bennett's home. When they arrived about four minutes later, they heard gunshots, Powder Springs police Maj. Charles Spann told the Journal-Constitution.
Two people ran from the house following the gunshots, including Bennett's mother, Narjaketha Bennett, and his uncle, Taiwan Hunter, who had been shot. Both were hysterical, police said.
The Cobb County SWAT team was called to the scene, and officers found two people who had been shot and killed inside the home: Bennett, 18, and Clifton O'Neal Steger, 39, who died from a self-inflicted gunshot to the head, according to Powder Springs police Lt. Matt Boyd.
Police said Hunter, 32, who is Narjaketha Bennett's brother, was wounded and underwent surgery. He was listed in serious condition Thursday afternoon.
Steger was later identified as a former boyfriend of Rajaan Bennett's mother. No motive has been given for the shooting.
Bennett, listed at 5-foot-11 and 210 pounds, rushed for 1,857 yards and 28 touchdowns as a senior at McEachern High School and led his team to an unbeaten regular season. He was recruited by several SEC schools, including Kentucky and Tennessee, before choosing Vanderbilt.
[+] EnlargeRajaan Bennett
ESPN RecruitingVanderbilt recruit Rajaan Bennett rushed for 1,857 yards and 28 touchdowns as a high school senior.
"All of us at Vanderbilt are devastated by news of Rajaan's death. This is just so tragic to everybody who knew and loved Rajaan," Vanderbilt coach Bobby Johnson said. "Initially, our thoughts and prayers are with his mother, Narjaketha, and family members. I know he meant so much to them.
"Rajaan was an extraordinary young man and an ideal fit for Vanderbilt University. As we got to know Rajaan, it became very clear to our coaches that he was a better person than he was an athlete. He was a leader, a young man who gained the respect of the entire community at McEachern High School."
Bennett was rated as a three-star prospect by ESPN Recruiting, and as the 25th-best player in the Journal-Constitution's Fab 50, which was published earlier this month.
Bennett's high school coach, Kyle Hockman, said Bennett was one of the best kids he's ever coached.
"I'm sure you want to talk about Rajaan on the football field, but I promise he's a better person than he is a player," Hockman said when Bennett signed with Vanderbilt. "He has a great head on his shoulders, a guy that has been the man in his household for quite a while, yet still worked to maintain a solid GPA in class and become such a great player.
"Rajaan is both humble and hardworking. He's a guy that is very respected by his teammates and the McEachern community. I think the world of this young man," Hockman said.
McEachern principal Regina Montgomery said counselors would be at the school to help students with the grieving process, but, "We don't know what we're going to do tomorrow, we're just trying to get through today together."
"We have a population of 2,200 kids," Montgomery added, "and when you're Rajaan Bennett, you touch the lives of all 2,200."
This is the second murder that has rocked the Vanderbilt football program during Johnson's tenure as coach. Former running back Kwane Doster was shot and killed in December 2004 while sitting in the back seat of a friend's car in Tampa, Fla.
Doster had just finished his junior season at Vanderbilt. He was named the SEC Freshman of the Year two seasons earlier after rushing for 798 yards.
Chris Low covers the SEC for ESPN.com. Information from The Associated Press was used in this story.