That's the statue of Red in Quincy square. He's sitting on a bench. It's in a row of other benches, and it's not impossible to walk right by without even noticing, but it's worth checking out if you're even in Boston.
I strongly recommend picking up John Feinstiens' "Let Me Tell You a Story". Not only is it loaded with stories about the history of the league told through Red, but they were all narrated by Red during his weekly lunch meetings at a Chinese Resturant in Washington DC. Filled with some of the best local basketball minds around, including Sam Jones, Morgan Wooten, and countless others who could only stop by from time to time, Red still commanded the entire room. It's a fascinating read, and it adresses a lot of the league's current issues, in Reds simple pragmatic way. He really is the father of modern basketball. If you watch footage of a his Celtics play, and footage of a current game, they're much more similar than his Celtics, versus Mikan's Lakers, which were only 10 years prior.
Red so dominated the Celtics' winning culture, that even the famed Celtic logo was created on commision by Red's brother Zang.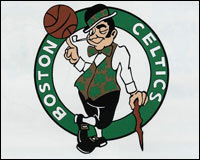 Anyone who cares enough about basketball to actually be reading or writing on a message board owes a lot to Red Auerbach.
Thanks Red.