Amp Lee - I remember him from his 49er days, but I don't know why. He never really amounted to much.
Amos Zereoue - Famous Amos was a decent RB.
Peter Warrick - Bust.
David Boston - Had a good year, then a great year, but then faded away quickly.
Merton Hanks - Long neck.
Dan Wilkinson - Big Daddy never lived up to the hype, but he was a pretty decent player.
Kent Graham - Mediocre QB.
Mike Tomczak - Mediocre QB that played for a while.
Quincy Carter - I'm still trying to figure out how the Cowboys went 10-6 with him at QB...
Tim Couch - Bust.
O.J. McDuffie - Decent receiver for the Dolphins.
Natrone Means - Another one of those big backs the Chargers had back then.
Darnay Scott - Him and Pickens made a nice tandem.
Kendrell Bell - The only one that's not ringing a bell...
Aaron Brooks - Fairly good QB.
Kevan Barlow - Forgettable RB.
Gilbert Brown - Huge guy who was a good run stopper.
Jim Drunkenmiller - Nice name (though, it's Druckenmiller), bad QB.
Shaun King - He slapped together a good year leading the Bucs to the playoffs, but he quickly faded away afterwards.
Chris Muafatu-Maafala - Why?
Randall Godfrey - Why?
Freddie Mitchell - Lol
Ryan Leaf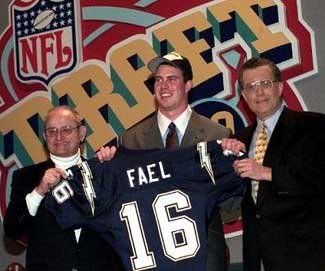 Greatest QB ever