Quote:
Originally Posted by LJJ
I would start shaving already.

That's a LoJ hairline man. Shave it.
LOL, everyone loves to hate some LOJ. If dude doesn't want to shave his shit, then he doesn't want to shave it. I'll never understand why other men are so obsessed with other men's "looks" ... makes me question some of ya'll'z sexual orientation.
I usually keep my shit short... but when I let it somewhat grow out, I don't look as "blad" or hairless as a lot of you think.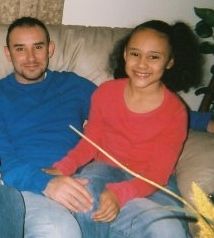 There's a pic of me with my niece at a family Christmas party in December of 2011. My hairline is no different today.
... even if I were completely bald ... why do so many people care?
I'll never understand that. It all started the first time I ever posted a pic of myself on here. GOBB went bananas and had a field day with it, even though dude himself has a receding hairline. Countless others jumped on the bandwagon; I guess because it's fashionable to hate on LOJ.
I'm the sole # 1 target when it comes to "the bald poster" and the fact of the matter is, I'm not even the most bald poster here. If I were even, LOL, why does it seem to matter so much to everyone?

It can't be that people are obsessed with me, or at a minimum, people are obsessed with attacking or flaming me. Nah, it can't be that much hate.