With the 47th pick the Bucks select USF's Dominique Jones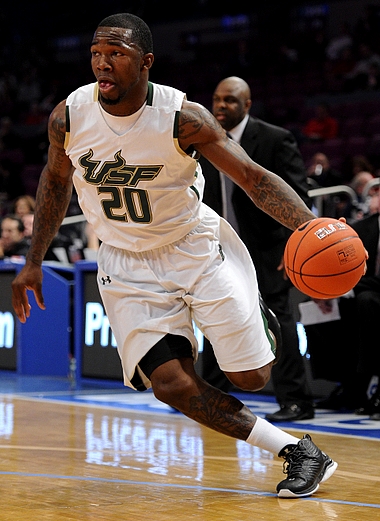 With Ridnour possibly walking out the bucks could use some depth at the guard position. Jones provides nice size and has great wingspan which will allow him to play both guard spots on offense and defense. He could stand to work on his dribble, especially his left and his jumpshot is slow and lacks a little range. He is quite strong though logging in at 19 reps on the bench press.
He is aggresive off the dribble and looks to attack, he needs to learn to keep his head up though in order not to get himself caught in trouble in the lane and force a bad shot/pass resulting in a turn-over. His strength though allows him to finish through contact and draw fouls and allows him to knock smaller defenders aside as he drives by them. On the point guard position he's shown he can setup both in the half-court and run the break and he's a willing passer.
His main upside is his defense though, he is unrelenting with great footwork and the drive to match it. He's willing to step up and take charges and will get right up into the opposing players chest and uses his size and long arms to bother shots and his strength to create awkward driving angles. He's a fairly decent rebounding guard as well which allows him to quickly ignite fast breaks.
TLDR: An exciting young prospect at the guard spot who I think can be one of the steals of this Mock Draft. Certainly able to contribute right off the bench with both scoring and defensive stopping power.