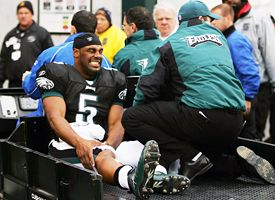 PHILADELPHIA (Nov. 19, 2006) -- Eagles quarterback Donovan McNabb will miss the rest of the year because of a torn ligament in his right knee, ending his season early for the third time in five years.
McNabb was carted off the field early in the second quarter of Philadelphia's 24-13 loss to the Tennessee Titans.
The Eagles said McNabb tore his anterior cruciate ligament.
"That's normally an eight month to a year injury, so he's done for the year," Eagles coach Andy Reid said.
McNabb was rolling to his right near the Tennessee sideline and tumbled out of bounds after throwing an incomplete pass. He grabbed his leg and was immediately tended to by trainers. He was replaced in the lineup by Jeff Garcia.
McNabb, a five-time Pro Bowler, came into the game tied with Peyton Manning for the league lead with 18 touchdown passes and was second in the league with 2,569 yards passing.
McNabb had surgery for a sports hernia and missed the final seven games last season when the Eagles finished 6-10 a year after going to the Super Bowl. McNabb also sat out the final six regular-season games of the 2002 season with a broken ankle before returning for the playoffs.
The Eagles were 2-5 with Mike McMahon filling in for McNabb last year and went 5-1 with Koy Detmer and A.J. Feeley starting the last six games in '02.
McNabb was 6-for-13 for 78 yards and threw an interception in the end zone before leaving the game.
http://www.nfl.com/teams/story/PHI/9814886