Again, this is why the case should have gone to trial. Grand juries are not intended to litigate issues like this.
Quote:
Originally Posted by MavsSuperFan
explain to me why brown's blood was on wilson, and on the interior of the car door panel?
We know that Brown was shot by the car.
We know that Brown's blood got on Wilson's hands because Wilson said that he washed Brown's blood off his hands later that night.
It seems to me that he could have transferred the blood from his hands to the door as he got out of the car.
Is there any specific evidence that contradicts that scenario? Basing my answer on nothing more than the scenario you laid out, as I haven't read the details.
Quote:
Originally Posted by MavsSuperFan
How in anyway does Dorian Johnson's account of Wilson, while seated in the car choking and pulling brown into his police car make sense?
How does Wilson's account that Brown "ducked" his head into his car window before he started punching make any sense? Think about that. You want to punch someone sitting in Chevy Tahoe, would you first try to get your head through the window? Stand up and try it. It seems to me you wouldn't lean down and forward into a window like that if you were about to punch someone. Lead with your face seems like a bad move to me
Quote:
Originally Posted by MavsSuperFan
If wilson was going to shoot brown for no reason
Is anyone actually saying this? I think most folks are in agreement that the situation escalated. I think folks who think Wilson was in the wrong would say it was a case of excessive use of force. I think you framed that as a strawman argument. I don't think this was cold blooded murder. I think this was a hotblooded incident with Wilson either reacting from anger or panic.
Quote:
Also if wilson is this much of a psychopath then how did dorian johnson survive?
Again, this psychopath bit is a strawman. He just empited his gun and shot someone in the head with blood and gore everywhere. Are you saying he should have reloaded his gun and turned it on Johnson? In Broad daylight with witnesses? Should he have just kept shooting until another cop took him down? Even a sociopath can understand if they ****ed up.
Quote:
Originally Posted by MavsSuperFan
If wilson was going to shoot brown for no reason then why pull brown in at all? Guns are ranged weapons, ideally wilson would want distance between him and brown. Pulling the 6'4 almost 300 pound brown into the car to shoot makes no sense.

Isnt it much more reasonable that brown (proven by the strong arm robbery video of being aggressive and willing to use violence) tried to prevent wilson for exiting the police car and reaching into the car to attack wilson? (the blood on the interior of the car door and the blood on wilson)
I don't think Wilson intended to shoot Brown at first. I think it escalated.
I don't think your example he shoved a store clerk, so he must have attacked the cop is reasonable either. Don't you act differently around cops than you do civilians? Even if didn't do anything wrong? When you're driving on the highway and you see a cop car, do you check your speedometer immediately? So how someone acts towards a store clerk while stealing and how one acts towards a police officer who you know has a gun and training and can call for backup are not automatically the say. Could it have happened just like Wilson said? I think it's unlikely, could it have happened pretty much like Wilson said except he was much politer in version and made Brown much more belligerent and threatening because he was hoping to avoid a manslaughter charge? I think that's pretty reasonable.
Could both Wilson and Johnson be shading their stories?
Do you know that when Wilson was interviewed at the scene he said he fired one shot in the car and then when he testified he said he fired two? The problem was that the prosecutors acted like Wilson's defense lawyers. The gave hard cross examinations to every witness that disagreed with Wilson, but they never pressed Wilson on his contradictions. He claimed that he feared for his life after Brown punched him twice with his right hand taking a full swing, but he had no injuries on the left side of his face. He also claimed that Brown was holding the cigarillos in that hand while punching him. Did they find any tobacco in the car?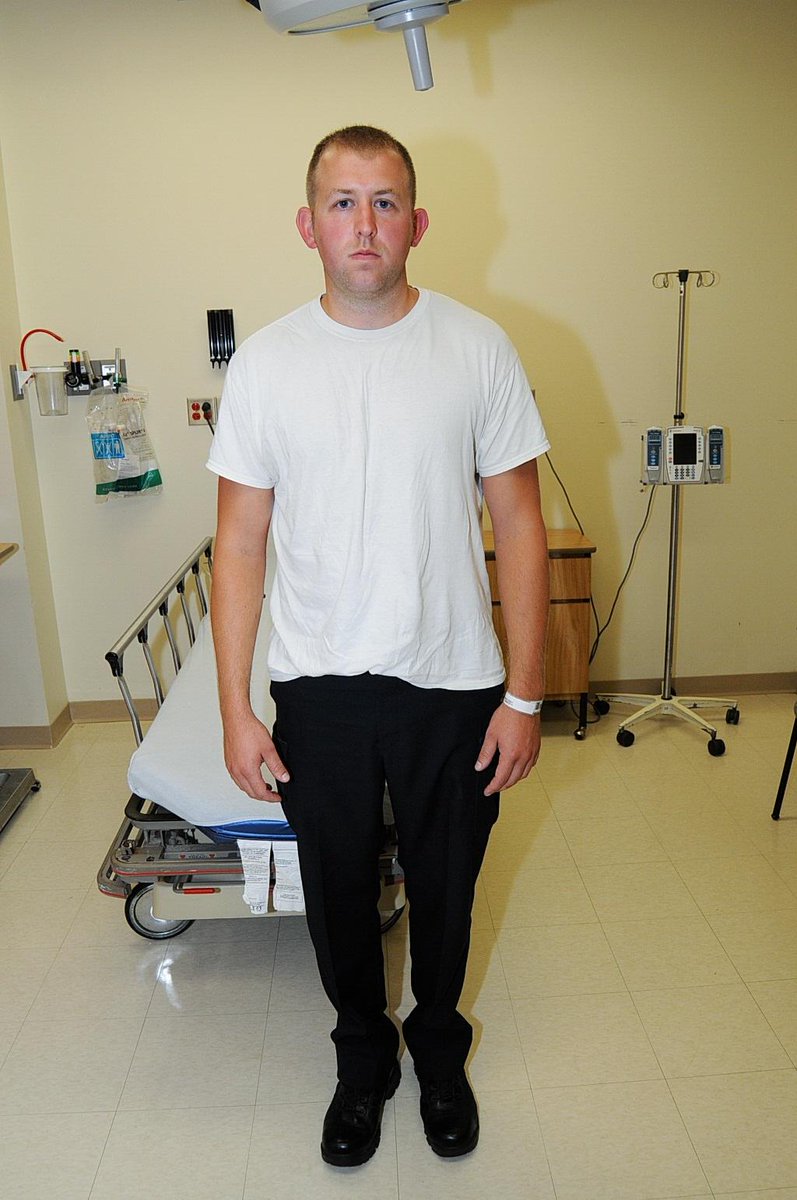 The medical report said he had a mild bruise on his left cheek and a faint superficial abrasion on the back of his neck.
The prosecution had many, many opportunities to undermine Wilson's testimony in the same way they did to other witness and they didn't take them. Case should have gone to trial.