Who is the better PG to run your Franchise?
Gary Payton
* 16.3 ppg, 3.9 rpg, 6.7 apg, 1.8 spg (prime: 24/5/9/2.5)
* PER 18.9 (peak 23.6), WS 145.5
* DPOY, 2x NBA 1st Team, 5x NBA 2nd Team, 9x (in a row!) All-D 1st Team
* 6x Top 6 in MVP voting, once #3
* Led the Sonics into the Finals once, won a ring as a bench player
* One of the greatest post up point guards ever
* Incredible defender, only PG to have won the DPOY Award
* 3rd most prolific ballhawk ever
* 7th greatest assist giver ever (8,966)
* GOAT-level trash talker
* GOAT Sonic
Steve Nash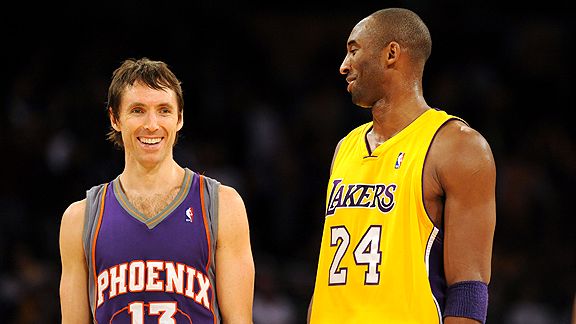 * 14.6 ppg, 3.0 rpg, 8.2 apg, 0.8 spg (prime: 19/4/12/1)
* PER 20.2 (peak 23.8), WS 109.4
* 2 MVP, 3x NBA 1st Team, 1x NBA 2nd Team
* Led a thin Suns team into multiple 60 win seasons and deep playoff runs
* Back to back MVPs, nearly became the first guard to win three MVPs in a row
* One of the best passers ever, both in transition and in traffic
* Superb shooter, FT shooter, and 3pt shooter
* Team mates regularly have career years
Respect them both but who is the better PG?
GO!