I no every was patiently waiting for my new thread on how Michael Beasley is gonna be having his Breakout season next year. Regardless of what squad B-Easy is on he will MARK MY WORDS he will Dominate REAL TALKS BRO!! All this media junk on him I think it really motiavtived him big time. Dude is going to summer league to show out his skills. Its only gonna be a sneak peek but u wont be mad. Michael Beasley is Legit bro. Coach Spo knows its, Pat Riley knows it, Dwayne Wade knows it and Michael Beasley knows it.

Quote:
"I haven't had any vacation. I just went straight to working out. I feel I can do a lot to improve my game to help the team and take us further in the playoffs
Now if thats not saying he is ready to reach his all-star potential or let me be more clear superstar potential i dont no what is.
Dude is all skill! Has the stroke of Carmelo Anthony, has the Athlectism of Amare, has the best big man handles in the league and wants to win. He hates losing REAL TALKS BRO!!
People on the ISH join the bandwagon quick before it full. Michael Beasley would be killing his oppoents next year. Dude is too quick for PF to hold him, has the length to get his shots over small foward. His scoring ability is out of this world. Name me another guy his age who has the ability to light up a score board like B-EASY. Cant find anybody rite that what i thought! Michael is gonna be everywhere on ESPN bout saying how everyone thought he was a bust lol lol @ ESPN. Hope Dwayne Wade finds another team so Beasley will be an allstar next year. He and Mario Chamlers would be a sick combo. They might end up in the lottery but hopefully they will be able to draft Harrison Barnes or Josh Selby too studs. Perry Jones is good but same position as Beasley so no.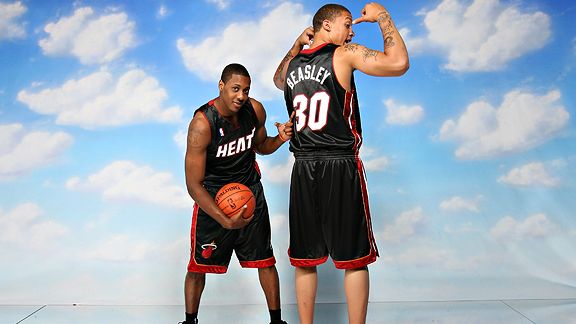 Breakout Season for Michael Beasley 2010-2011
23ppg 9rpg 2apg 1bpg 49fg%