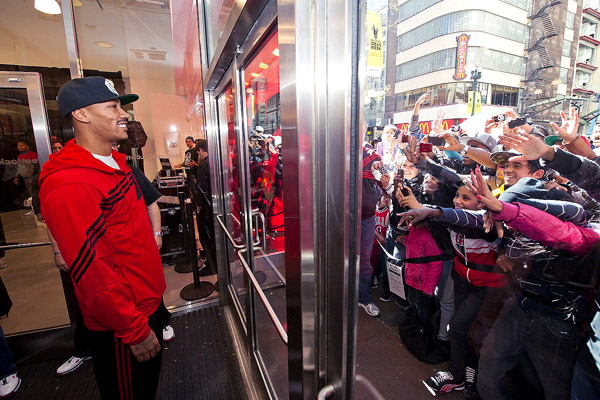 CHICAGO -- Old habits die hard for Derrick Rose, who still bleeds Bulls' black and red.
Hours after chastising NBA owners at a shoe store in downtown Chicago and minutes after playing nine groups of teenagers in a surprisingly competitive series of three-on-three, Rose accidentally spoke for the team that can't let him in their gymnasium or put him on their website.
[+] Enlarge
Courtesy of adidas
Fans were able to see Derrick Rose over the weekend, but not in a Bulls uniform.
"On behalf of adidas, the Bulls, my family …" he said as he thanked the crowd at the James R. Jordan Boys & Girls Club on West Monroe Street.
That is what we call a lockout foul. Rose, a living thank-you note, can't speak to or for the Chicago Bulls right now, because of the ongoing NBA labor strife. In fact, adidas had to scrub the gym of Bulls logos and paraphernalia to film the games for their "Run with Rose" promotion.
With Rose and the Bulls on the shelf, his old school, Simeon High, is probably the best squad in the city, and that includes the local colleges. Rose is a man without a team, a young talent who, pardon the metaphor, is ready to bloom.
It's a real shame. We certainly could use some of Rose's optimism in Chicago. The 23-year-old from Englewood is easily the most exciting athlete this city has seen in years -- sorry, Frank Omiyale, but it's true -- and we can't watch him play.
The NFL lockout consumed us for months, but the NBA lockout suffers from labor malaise. I know this is Bears Country, but did any team make you as consistently happy as the Bulls last season? I think it has a lot to do with the energy expended during the summer over football, but no one seems concerned about the basketball season's hiatus. Maybe some of the young fans who waited in line to meet Rose should organize a protest outside the United Center and let Bulls owner Jerry Reinsdorf know how they feel. Occupy the Jordan statue!
But I'm also a sports romantic, and the real shame in this lockout, especially if it lingers past December, is that the true fans don't get a chance to watch Rose play.
ESPNChicago.com Bulls blog
The latest news from Bulls reporter Nick Friedell. Blog
More coverage:
Forget the fairness of basketball related income splits and a salary cap, I want to cover the Bulls, you know on the floor. I want to watch the Bulls. Yes, even Carlos Boozer. As fun as it is to second-guess Mike Martz all fall, the Bulls are easily the most aesthetically pleasing subject for a reporter, and I'm selfish.
As the leaves change, a season of Rose's prime is in danger of being squandered. And despite my naive populist optimism, I think we understand the NBA owners are going to "beat" the players. I just hope they find an amenable solution that doesn't cost an entire season.
"It hurts," Rose said. "It especially hurts the people in my [draft] class, me and [Russell] Westbrook, K-Love and everyone else. It's definitely going to hurt us more than anyone else."
Instead of cooling off after a planned preseason game against the Timberwolves, Rose made his way through city shoe emporiums Saturday to promote his new shoe. You've definitely seen the commercial of him dribbling through a bullfighting ring. The shoe is the next step, and the company's marketing blitz is significant.
While Rose is happy to be a marketing icon and all, you can tell he's getting itchy. He'd kill for a film session with Bulls coach Tom Thibodeau.
Chicago was Rose's personal garden last year as the Bulls took the league by storm. He went from MVP dreamer to doer over those nine months and established himself as the top athlete in town.
Aside from Devin Hester racing in the open field, what Chicago athlete plies his trade at a higher level than Rose?
It was Chicago author Scott Turow who once said, "Michael Jordan plays basketball better than anyone else in the world does anything else." I would amend "world" to "Chicago" and say the same about Rose.
And the key is he's only getting better. The gym rat has been working out in private all summer, adding a post-up game and shooting jump shots. He said he's committed to improving his "basketball IQ."
I jumped at a chance to watch Rose play in Chicago for maybe the last time in 2011. Sadly, it was against a collection of teenagers who found their way to the youth center gym through a Facebook treasure hunt in conjunction with his new shoe launch. It was a private event, surrounded by police cars and Pinkerton security guards.
It was also probably one of the cooler events you'll ever see a professional athletes do. These kids really got to play against him.
Rose took it easy, of course, but there were times you could see him getting antsy when some 14-year-old hit a jumper. And a couple of the older kids actually defended him. Rose got poked in the eye early, but soldiered on. He had to laugh when a team of three girls beat him and his two friends. A couple times Rose got bored and broke a 2-2 tie with a winning basket. As he likes to say, "I just want to win."
By the end of the hour's session, he had broken a significant sweat. He showed off a few signature moves, some nasty crossovers that left his defenders laughing, soared on an alley-oop dunk, hit some fadeaway jumpers over the rapper Common. Yes, Common.
[+] Enlarge
Courtesy of adidas
Derrick Rose and Common talk to fans over the weekend.
Unlike his peers, Derrick's brother Reggie said there was little chance you'd see Derrick participate in any basketball game in the city that isn't with the Bulls. That's because Derrick doesn't do pickup games.
He played in China for adidas, and played in the Phillipines for a big six-figure paycheck. He's going to Hawaii and Guam next week for a USO-sponsored engagement, but that's about it.
That's why you didn't see him this summer in the Drew League, the Goodman League or at Rucker Park. He hasn't been at anyone's charity game and doesn't plan on starting now.
Europe? We'll see, but I doubt it. Until the NBA and the union can come to an agreement, fair or otherwise, Rose won't be basking in the city's love for a bit.
While the NBA is struggling in some markets, in Chicago it hasn't been this important since the Jordan era. It figures. Just as the Bulls recapture a modicum of that long-lost magic, the league shuts down.
It will be back, hopefully sooner rather than later, but until it does, Rose will have to be content an 8-1 run over a bunch of teenagers and one rapper in a game that featured rotating DJs and more idolatry than your average Jay-Z show.
That's the extent of his season so far. And it's a shame.
http://espn.go.com/chicago/nba/story...s-derrick-rose