Similar to the
Shawn Kemp; Derrick Coleman; Larry Johnson
I made a few days ago on Power Forwards. I'll go to the shooting guards spot (I'm counting Penny as a SG for this one, haha.)
All 3 being drafted in consecutive years. First, Sprewell in 92 for the Warriors, Penny to the same Warriors but shipped of for Webber in 93 and Jones by the Lakers in 1994. By the start of the new millennium, these three should have been in them primes of their careers. Instead, one couldn't stay healthy, the other got into problems with staff and family matters (but was a major part of a Finals and West Finals squad) and one had to take a backseat to a young kid who was know doubt watching these players closely in high school.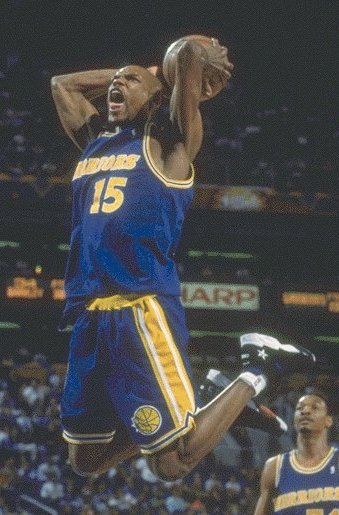 -Latrell Sprewell: I liked his game, it was straight up in your face. He was very aggressive in whatever he did. I loved his break-a-way two handed tomahawks he's always do with the Warriors.
-Penny Hardaway: Penny was very smooth. He was my favorite player as I just started to get into the league
-Eddie Jones: Eddie, I can't really describe his game, he just got the job done. HE could do a little bit of it all, shoot the j and take it to the hole.
By the middle of the decade, a new group of athletic swings had taken over the league, McGrady, Carter and that one kid mention earlier Kobe Bryant. Penny peaked earlier than the others, having his best season goin to the Finals in the mid 90s, Jones peaked the latest having his best season in the early part of the 2000s. The most consistent was Sprewell, who's been very strong for a ten year period.
While I watched the forwards in my previous post, most of them peaked just as I was gettin into the game. For these guys, they were peaking right as I started to tune into the game. Out of the three, I'm not sure who was considered the best prospect coming into the league.
I wish all these guys had entered the dunk contest at one time or another.