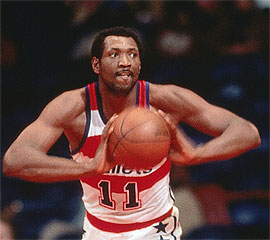 Elvin Hayes
Pretty high usage and low FG%, but 99 DEF and lotsa points and rebounds.
PG: Penny Hardaway/Walt Frazier
SG: LeBron James
SF: Dennis Rodman
PF: Tim Duncan/Elvin Hayes
C: Nate Thurmond
I don't think the 4 hour pick limit 'll work for some of us, but I don't mind being skipped. Don't have the time to send out a list now..