THE ISH SHIVA!!!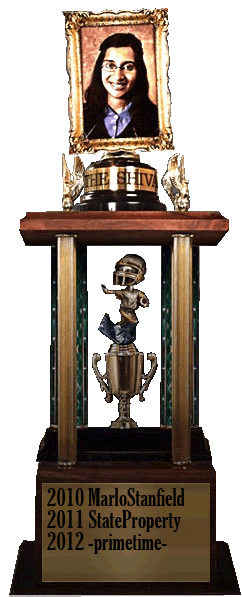 *cough cough, clears throat*
I would like to take this time to thank a few people
First and formost to one Mr
CJ Spiller
, I drafted you very late and you were the steal of the draft for me. It is almost without question that you will be a 1st round pick in every draft next year, thank you....and STOP, -spillertime-
I would also like to thank one Mr
Drew Brees
, it is very difficult to win a fantasy football league if your 1st round pick busts...you sir were very much worth a first round pick...thank you, you are a football God.
Next I would like to thank you Mr
Vincent Jackson
, holy fckin shit did you beast this year...you are a true elite WR, and a FF stud.
next I would like to thank the
Steven Jackson
, you know Stephen, I was very close to trading you this year, I almost did for Andre Roberts of all people, but thank god I didn't, because you showed up when I needed you most, thank you, you are a true HOFer...
also, I would like to thank
Shonn Greene
, you know what Shonn, you fcking suck as a NFL RB, you are garbage, but you do your job in fantasy because you are very durable and you get a ton a carries each week which gives you a high chance of points. Drafting you when I did was very much worth, I probably won't do it next year though, sorry.
and thank you Raven duo,
Anquan Boldin
and
Torrey Smith
. I didn't always know which one of you to start, you both were about equal in terms of fantasy value this year, but you were both strong and I couldn't go wrong no matter who I picked, thank you.
and last but not least
my best fantasy assett
the entire reason I won the ISH Shiva this year
OMFG
Dez Bryant
, was there a single fantasy player that scored more than you in the final 6 weeks? No, I do not think so. You were my entire playoffs. I won because of YOU, I will always be in fantasy debt to you...you are a GOD