Secret Illuminati meetings. OK, what the hell is going on here?! Marvel is part of the dark side... ? How could this happen. How the
He
-Man (and the masters of the universe - which is EXACTLY what the Illuminati is!!!) + twin hockey sticks (
LL
)
did
this happen? D.C. sure I could understand. They're inferior - just follow the yellow brick road and see which characters you pick up along the way. With the exception of the one and only super cool Green Lantern, who really stands out?

In the end, Marvel's character pool is virtually endless, and while D.C. packs a heavy punch with household names like Superman and Batman, but these well-known guys are the epitome of cliché. Fans of D.C. will argue quality > quantity, but the problem (for D.C.) is that Marvel is nothing but quality. Yes, they were dicey, unpredictable and very adventurous with creating new characters while putting some of their older ones on the back burner, instead of just continuously investing in the dinosaurs (Superman, Batman, etc).
Marvel never turned their back on their flagship heroes (and villains) such as Spider-Man, Captain America, Hulk, Thor, Dr. Doom etc. - just a few of their early 60's creations. While keeping these franchise characters ongoing, Marvel's hard work, determination to be # 1 in comics and raw ambition allowed them to give birth to the world's most famous super hero "group" in the X-Men by the mid 60's. As the years passed, D.C. experimented and kicked around some new guys, but found themselves staying completely loyal to their already established studs (and studette, Wonder Woman).
Marvel continued to sway towards the experimental side of things riding that wave of creativity, and the result was dozens and dozens of new entries, many of which failed - however many of them found a nice and cozy home exhibited within the pages of Marvel comic books. A few found themselves with their very own series, while most of them were a newly featured villain or *helping* guest hero make a special appearance. The point is, while D.C. was being conservative stale play-it-safe Donatello, Marvel was cool, but rude like Raphael, in addition to being a party dude like Michelangelo.
Donatello (D.C.) in the end never properly impressed, and while they have survived, without Hollywood deals, there's no way they'd have ever thrived. Long story short, Donny had to settle for Irma. In a way though, they're right for each other.
Irma invited Donny over to her apartment. He never knew she had a little freaky side underneath all that ... Irma. His bo-staff became rather stiff to say the least.
Leo and Splinter were on vacation in Hong Kong, and with Shredder & Krang trapped deep somewhere in Dimension X, Mikey and Raph (Marvel) felt it was their time to party! They survived
and
thrived in all facets of commercial success, none no greater than the film arena. These two bad boys put turtle power on the shelf so they could turn straight wolf-mode. Two bad hungry wolves on the prowl for a redheaded broad who always got that camera ready.
Supposedly Leonardo and April are trying to hide some relationship on the DL. We know this b/c Mikey was snooping around Leo's room last week while he was in the shower and happened to come across his turtle-com. He noticed a truckload of sex'ting, pics of Leo trimming April's bush with his katanas and Edge shaving cream, and a short video April sent to Leo's turtle-com; where she's sucking on cucumbers, moaning Leo's name with her mouf full, then she'd have two of them, her tongue going crazy licking everywhere and her moderately smacking or tapping herself across the face with them.
Mikey enraged with jealously, wants to go straight to Channel 6 News. As they're just about to head out to see April, Mikey looks to Raph and says...
"Hey, you watch bro. This is going to be some next level shit, compadre!"
Raphael dropped Mike off at the front and said he'd be right up after he parked the Turtle Van. So about five minutes later Raph gets off the elevator expecting to see Mikey in tears at April's feet begging and pleading with her "WHY LEO!?" ... "WHY NOT ME, MIKEY BABE!?" but to his surprise he can't believe what he's seeing (below) and shakes his head in shame as he hears Mikey mumbling something to the effect of "HERE YOU GO LEO, BUD! YOU'RE NOT THE ONLY ONE WHO'S A FEARLESS LEADER. LOOK AT ME DUDE, I'M THE FIRST TO PUT MY PEPPERONI AND ANCHOVIE TONGUE ON APRIL'S TACO, COWWWWABUUUUNGA!"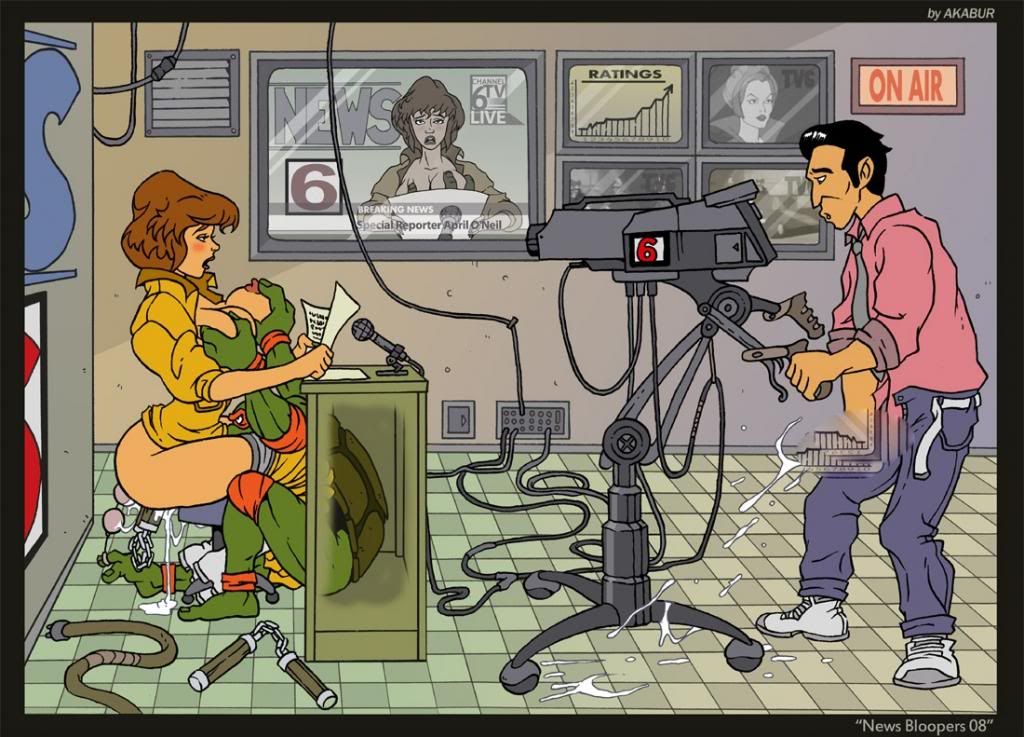 ...
Raph closes his eyes, hurt and embarrassed. Highly ashamed of what Mike-Dawg done did.
Yeah right. Is that truly what happened, or was this a domino effect type reaction where Raph is just as guilty? Meaning that Leo is the one smashing Miss O'Neil. Mikey is super jelly b/c everyone (including April) knew he harbored the biggest crush on her. Now, Raph can't help but picture April wanting/taking/hooking up with Leo over him! These two are heated rivals; always have been, always will be.
All this time, vengeance was on Raph's mind. He daydreams of listening to 2pac's Hail Mary while smashing April ... "revenge is like the sweetest joy next to getting pussy" looking up as if 'Pac is looking down impressed with 'Pac thinking to himself "you a turtle, Turtle Power! put ya shell into it!"