I had a chat last night with some random people about how much I like raccoons, and I was shocked to hear another North American start going on how much they hate them and how frustrating they are. Sure they can do stuff like this:
But at the end of the day, a raccoon can be your bro. Maybe a really annoying one, but you have to embrace them. They chill in your backyard, eat up your garbage, and generally like to mess your shit up. Everyone has a friend like that, and these guys were here first (we continue to overpopulate cities and drive them away from their natural habitats. Why complain about such a smart animal? If you want to talk pests, go to NZ and have a look at what possums do.
"Hey bro, thanks for the Cheetos covered in diaper remains and the contents of a vacuum bag."
Feed pigeons, chase seagulls. Hey, I use to be one of these guys. I often wondered why it wasn't legal to shoot seagulls, nasty ass voices, stupid as shit, collectively picking up rubbish bags and shitting on everyone. Then I decided to feed one. The guy started making a whole bunch of racket over a french frie. Squawking and carrying on. I could see other seagulls near by, and his squawking made me nervous for him. Why would he call friends? They're going to turn up and eat his bounty. Then I realised, the seagull is that asshole friend we all have. He gets nice things and then brags about it. He doesn't care if it gets him into trouble, he just cares about status. Hey might even steal when he doesn't need to.
I like that about seagulls. They brag about their shit even if it means they may get robbed. It's like walking into a ghetto neighborhood at night in expensive jewellery and then yelling out, "Look at me, I'm rich, in your face motherfuckers." You have to respect that, even if it's a dick move.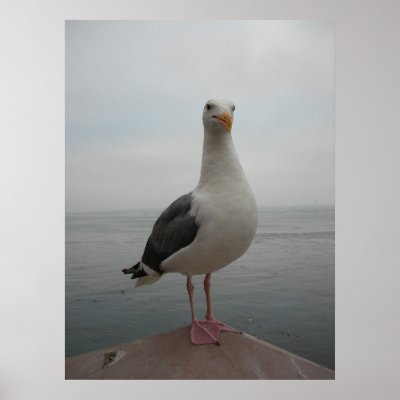 "Before you judge me, just know that I can shit, and I can fly."
Before judging these epic animals, have a look at some of the people you hangout with.....