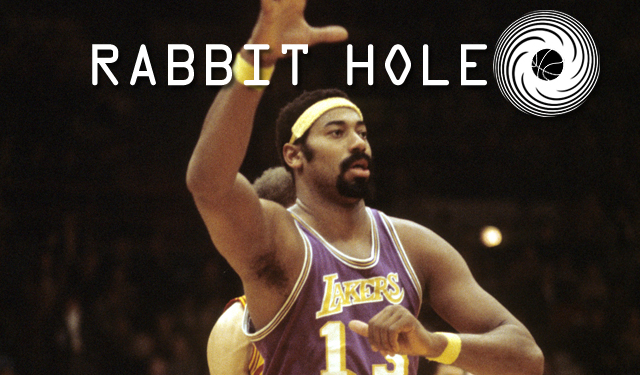 By Zach Harper-
Sometimes the journey down the rabbit hole doesn't have to take you anywhere different than your starting position. It's rare this becomes the case because the nature of the internet is so tangential that it's easy break off to other subjects. That's probably why it's called the "Information Super Highway" and not the "Information Dimly Lit Back Alley." However, some subjects are so large in stature and so fascinating on their own that you can spend your entire journey focused on them.
For this week's journey down the rabbit hole, we're looking at Wilt Chamberlain. Shall we?
First Stop: Wilt Chamberlain on Tall Tales
The internet can be a great place for meeting people that open your eyes up to incredible things you didn't even know existed. I'm not talking about Catfish. I'm talking about how Ben Swanson, a.k.a @CardboardGerald, managed to put me on to these Blank on Blank interviews earlier this week when he tweeted out a fantastic interview with Wilt Chamberlain. What the Blank on Blank videos do is take these older Q&A sessions and add pictures or even animation to them. In the video below, Chamberlain openly discusses his awkwardness as a child because of his height and his success with women.
https://www.youtube.com/watch?v=zxLiVnSGJKc
There are some really interesting interviews in the "Blank on Blank" archive page on YouTube. You have Tupac Shakur from 1994 discussing life and death (kind of eerie), Larry King from 2001 on getting seduced (seriously), and my personal favorite of Muhammad Ali from 1966 discussing going to the planet Mars to defeat their best fighter. There are some really great ones in there but those are probably my four favorites.
And that's just going to lead us to some awesome Wilt Chamberlain highlights. We're all good with this, yes?
Seeing individual Wilt stuff is just unreal
When you start searching for some cool Wilt Chamberlain stuff on YouTube, there are some pretty great treasure troves hiding in plain sight. An account called "Wilt Chamberlain Archive" has compiled some fascinating individual looks at players from the 60's and 70's, mostly centered around Chamberlain. Let's take a look at some of these individual video clips that showcase some of his dominance.
It's pretty well known that Chamberlain was bigger and taller than just about everybody. He even towered over his greatest competition, Bill Russell, when it came to physical stature. He utilized that size by not just being bigger than everybody, but knowing how to capitalize on that with certain moves. In this video below, it shows a devastating "tomahawk" post move that probably would be unconventional today but could catch a defender off-guard in the right situation.
https://www.youtube.com/watch?v=EHAJjP6e6pg
The height was incredible and the power of Wilt was immeasurable. But his wingspan and reach were things you could actually pinpoint. It didn't matter if you had an exact measurement; you probably just knew your reach wouldn't match up to his. In the video below, they seem to measure Chamberlain's wingspan at 7'8" and then we get to see it at use when he dunks over the front of the rim while jumping straight up from under the backboard.
https://www.youtube.com/watch?v=6PcEqa2l5eE
We know the physical attributes of him now but that doesn't really account for the athletic ability he possessed. His days as a track athlete are well documented all over the place but seeing him combine the leaping ability with his insane reach are best left localized in a video like the one below.
https://www.youtube.com/watch?v=QF8yJ1J1W7Q
I know the Muhammad Ali video I linked to above was about him saying he was going to Mars to fight a "green" boxer from that planet. But if Wilt Chamberlain stepped into the ring against Ali, would anybody even bat an eye at the thought of the big man as an alien? He just doesn't seem human.
He dominated an era of basketball that included Bill Russell, Bob Pettit, Walt Bellamy, Kareem Abdul-Jabbar, and many other significant big men in NBA history. It was primarily dominance from an individual standpoint but maybe that's all that was important to him? Maybe that was the goal? Regardless of where that debate goes, we can see some clips here of him going at Kareem for a few dunks and scores.
https://www.youtube.com/watch?v=Qak1eeHqfJ8
The amazing thing about him is we haven't even begun to dig into his career. Sure, there are the unbeatable records of his to talk about but there are so many stories and videos to share that we should just concentrate on that. We can save his 50-point per game season and showdowns with Bill Russell for another time.
We need more Wilt than that and more Wilt we shall have
If you want to go deep into some Chamberlain game film and see what kind of impact he had on games, even at the end of his career, there's a 15-minute video of all of his highlights and plays from the final game of his career. It happened in 1973 during Game 5 of the NBA Finals. He finished with 23 points (9-of-16 from the field), 21 rebounds, 3 assists, 3 steals, and 2 blocks.
https://www.youtube.com/watch?v=FpTNSLJqaAE
t's kind of cool to watch the highlights of this game while hearing Bill Russell provide the color commentary on the broadcast. Nobody would have known his game better than Russell and therefore couldn't have provided as much insight into what the thought process was during these moments. It's also fun to be able to really get a feel for their competitive nature with each other while still seeing the friendship they fostered during their playing days.
Here's a little taste of a sit-down interview with those two giants and Bob Costas.
https://www.youtube.com/watch?v=PMe9PXPt5Rg
Continued....