Quote:
Originally Posted by T_L_P
Where do you rank him overall in the NFL (sorry if this thread is dumb, don't know a whole lot about the NFL and I want to start getting into it)?

Not dumb. My experience, Football is a lot more about the fans and rivalries. If I don't have anyone to goof on after a loss or nobody is giving me the business when your my loses... it wouldn't be the same for me
Buddy of mine turned into the biggest Eagles fan I know after watching one game and this happened: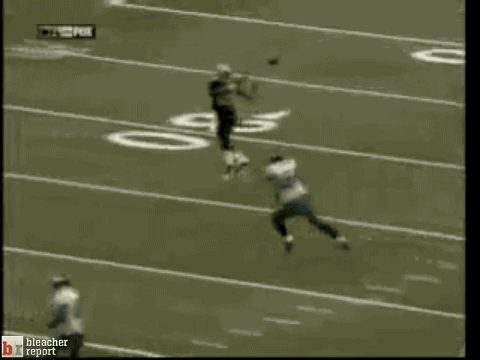 My living room jumps to life that moment. Friend is rocking back on the couch..."ooooooooooo weeeeeeeee. he just got folded in half!"
"F*cked that dude up!"
I'd say, don't worry about rankings too much in football. It's fun to argue about on the internet, but that's it. If ranking players is fun to you tho, do you. There's no correct way to be a football fan.
Try a fantasy league. Maybe there's enough guys on this forum to put together a fantasy league this year. Fantasy football is the best fantasy sport for my money. It's confined to one day and a monday night each week. Hockey, basketball and baseballl too long of a grind.