Here they are
So far , Wiggins 4 , Imagine 2 , finishes when we get in 10 votes
ANDREW WIGGINS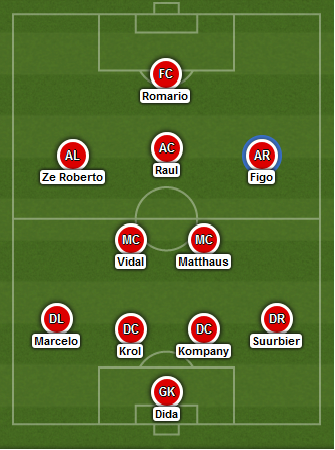 Dida
Wim Suurbier - Vincent Kompany - Ruud Krol - Marcelo
Lothar Matthaus - Arturo Vidal
Figo - Raul - Ze Roberto
Romario
Manager - Johan Cruyff
while cruyff favors the 4-3-3, I think his total football approach would work fine in a 4-2-3-1 given the players at his disposal. for the cb pairing, i believe kompany and krol would compliment each other well. kompany would be the brute who dominates in the air and with his physical strength while krol would lead the line and distribute out of the back with passes into the midfield and precise, defense-splitting long balls over the top of defense. marcelo and suurbier would alternate bombing the flanks and constantly provide overlapping runs and bolster the attack.
matthaus would break up play, distribute the ball all over the wings, and provide a shield for the cbs. vidal would function in the box to box role and help matthaus command the midfield. vidal's knack for scoring goals from distance and popping up around the box would keep defenders occupied.
ze roberto would provide excellent service down the left flank and fine coverage defensively. this would allow marcelo to overlap as he pleases without having to worry about being exposed on that side of the pitch. figo, raul, and romario would constantly rotate in and out of their positions and be a nightmare for defenders to deal with because of their amazing interplay. goals, goals, and more goals.
my team doesn't have the flashiest names but i think they all would play well off each other and have the versatility to excel in total football.
IAMGINE
Manager - Marcello Lippi
Team is found on the idea of possession and heavy passing philosophy. Kind of like Tiki Taka but with the focus on attack. So maybe more like total football but not quite. Anyways, Lippi will figure it out, why else would he be hired eh?
Offensive - Offense should be somewhat okay with the trio of Best - Puskas - Messi.
Midfield - The star of the team. Gianni Rivera was a genius playmaker and perhaps the best passer of all time. Kinda forgotten so look him up. Didi was the brain of Brazil's 4-2-4 formation, the man Pele admired so much he said Didi's better than him. Look guys, Pele's an emotional guy so he exaggerates a lot. Busquets is a little bitch, but no one can deny his great passing and offensive/defensive impact. Anyways, the midfield is built like Barca, but better passing and less boring.
Defensive - Two overlapping backs in Santos and Maicon. Maicon needs no introduction but Santos is highly regarded as the greatest left wing back of all time. I personally think it's Roberto Carlos but whatever. Scirea and Figueroa, two of the most highly regarded defender of all time.
GK - Chilavert though, man a GK who takes FK and penalty as well as captaining his team. What an alpha. A personal favorite. He was heroic for his country and I'm still sad about that asshole french Laurent Blanc for not letting it get to penalty kick.