RaiderFan19
, I hope you dont back off the Avatar bet that we made earlier this season! Because if you do, I will have to resort to as low as calling you
"LakerDynasty".
Click here to know the meaning of the derogatory term know as "LakerDynasty"
Just A Quick Recap...
When I predicted that the Mavs would get eliminated early in the Playoffs and would not make it to the Western Conference Finals (Way Before any other posters made their similar predictions), You went ahead and proposed an avatar bet. Now I tried to talk you out of it because I just felt that it was too unfair to you, But you wouldnt listen and We made a Avatar bet. I even went as far as not excepting other bets from other Mavs Fans that felt the same way you did (SuperManOnSteroids, etc..)
Link to thread where the bet was made
I have PM'd you many times on this matter and you have not responded to any of them. I hope you dont come in here and claim that you have not received or read any of them cause that would be too predictable. So You have left me with no other option but to put you through this public humiliation. Now I completely expect you to wear the
"King Nash"
Avatar once your Mavs lose tonight or whenever they do get buried by the GSW.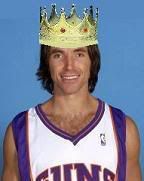 But since its been 4 days from the last time you logged into ISH, I really dont expect you log in tonight or for a long time as a matter of fact. And Why would you? Your team is about to pull off the
"Greatest Choke Job in the History of the NBA
". I'll Just have to call you
"LakerDynasty"
for now on....