Well, sorry to burst your bubble (all of those making fun of the compression sleeve)
I'm in the medical field, and was doing some research for one of my patients and found this thread and some of the ironic answers why somebody is using a compression sleeve which is the correct name, not "shooting sleeve".
I don't know Iverson, and I don't really care the real reason why he still uses the sleeve, but I'll give you a medical reason.
Swelling, inflammation, bursitis, and/ or lymphedema are the medical reasons to use a compression garment. The first three may occur after surgery or because of constantly using and/or abusing certain joints, in this case elbow. The best way to prevent pain due to these three reasons is using a compression garment, in this case a sleeve.
This is how a medical sleeve looks like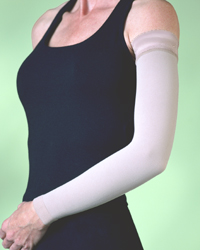 I don't think Iverson or any pro-player would look "cool" wearing one of those, so he most probably had one of his sponsor make a "cool" sleeve to wear during game time, and then other players liked it, and like any other fashion, sport fans want to wear what their favorite pro-player wears, so Mcdavid, Nike, Reebok, etc started making them available for the public.
In addition, triathlon and marathon runners, cyclists have used compression sleeves, socks, shorts, etc for a long time (see
http://www.zensah.com/
, but their sports are not as popular, and you don't see them on tv.
So, for those making fun of a compression sleeve, stop laughing and being ironic, you might want to try a compression garment sometime, and you will feel the difference.