| | |
| --- | --- |
| Nets fan 93 | 04-22-2012 04:21 PM |
---
The New Jersey Era Is Almost Over

Kinda just hit me. This season went fast (shortened but still....). Shout out to the fans throughout all the recent rough times. It's been fun. (Brooklyn Bound)
| | |
| --- | --- |
| MTing | 04-22-2012 06:59 PM |
---
Re: The New Jersey Era Is Almost Over

Being from New Jersey, I've been a proud Nets fan for about 9 years now. I was so proud of the Nets when we went to back to back finals because I was from Jersey. Those memories will never be forgotten and I'd love to tell my kids one day about being a NEW JERSEY Nets team.
Its funny because I live in NY now and the Nets also moved to Brooklyn so I'll definitely be catching a few games next season.
Favorite players in the Jersey era: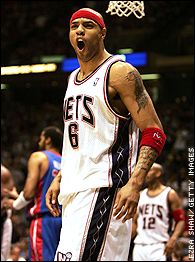 BOKI!:bowdown:
| | |
| --- | --- |
| gigantes | 04-23-2012 08:25 PM |
---
Re: The New Jersey Era Is Almost Over

i miss the heyday of those guys, plus curly, big mac, a-train, scallops, anthony johnson, frank. i also admired twin a lot for how smartly and effectively he played despite having such limited NBA athleticism.
it also just hit me that frank came in with a record-breaking streak and went out with a record-breaking streak. 13 wins and then 16 losses. i never put those two things together for some reason. 13-16 by itself is still a pretty decent record for the nets. :lol
i made it to a few games at izod despite living in philly, being broke during that period, and not having a car.
and it seems that chris christie has a message for the departing nets. so i'd also just like to say "good riddance to that plate of cheeseburgers, governor!"
http://espn.go.com/new-york/nba/stor...lyn-bound-nets
All times are GMT -4. The time now is

11:09 PM

.
Powered by vBulletin Version 3.5.4
Copyright ©2000 - 2018, Jelsoft Enterprises Ltd. Terms of Use/Service | Privacy Policy