| | |
| --- | --- |
| qrich | 09-01-2011 07:08 AM |
---
Kaman EuroBasket Watch:

Kaman, joining Dirk, on the German National Team, for the EuroBasket Tournament. All updates will be posted here: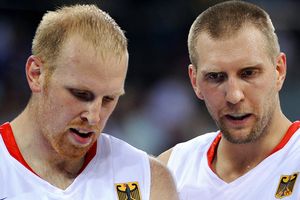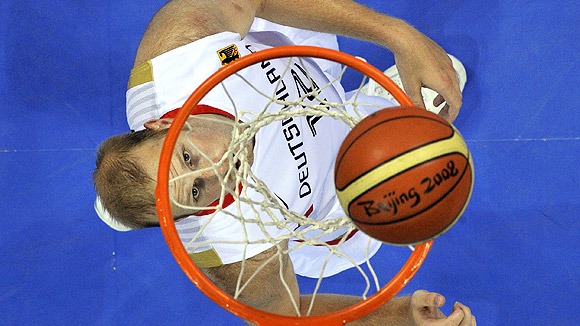 Game 1 against Isreal:
18 Points | 10 Rebounds | 2 Fouls | 1 Turnover on 8-12 Shooting, 2-2 Free Throw Line in 21 Minutes.
| | |
| --- | --- |
| qrich | 09-01-2011 07:09 AM |
---
Re: Kaman EuroBasket Watch:

Game 2 is at 11:00 AM Pacific, so in about 7 hours, against Bargnani and the Italians who are coming off a 68-80 loss to Serbia.
| | |
| --- | --- |
| qrich | 09-01-2011 03:51 PM |
---
Re: Kaman EuroBasket Watch:

Game 2 against Italy: 76-62
17 Points | 17 Rebounds | 3 Blocks | 1 Steal | 3 Turnovers | 4 Fouls | 7-15 FG | 3-5 FT in 29 minutes.


The game was very close, but Kaman helped open it up with a jumpshot from the top of the free throw arc, an offensive rebound and putback, an easy bucket, two huge defensive rebounds. Bargnani was all over Kaman early on in the game, but he came huge. Rob Benzing from Germany is going to be a talent, I'd love to get him on the Clippers.

Through two games, Germany is 2-0, atop their group and Kaman is averaging: 17.5 Points | 13.5 Rebounds | 1.5 Blocks on 55.6% shooting and 5-7 from the line in 25 minutes.
| | |
| --- | --- |
| ihatetimthomas | 09-01-2011 08:35 PM |
---
Re: Kaman EuroBasket Watch:

Kaman is playing very well in the euro league. Looks healthy and is playing with confidence. Hopefully this can continue with the CLippers once the seaosn starts
| | |
| --- | --- |
| qrich | 09-01-2011 10:33 PM |
---
Re: Kaman EuroBasket Watch:

Kaman was a beast in the clutch, but was horrid the rest of the game.
| | |
| --- | --- |
| qrich | 09-02-2011 08:16 AM |
---
Re: Kaman EuroBasket Watch:

Kaman and his Germany squad face off against Tony Parker and France at 11:00 AM Pacific, in about 6 hours. This'll be the biggest test for Kaman as he faces off against Joakim Noah, a day after his 17/17 +3 blocks effort.
Quote:
---
France v Germany - Friday at 21:00 (20:00 CET)

France have cut down two opponents at the EuroBasket in Lithuania already but their toughest challenge so far awaits on Friday.

Germany and Dirk Nowitzki are waiting for Les Bleus in a vital Group B clash and two of the biggest names in the sport will come face to face again.

Tony Parker will lead France against familiar foe Nowitzki in Siauliai.

The two basketball icons have a lot in common.

Each plays professional basketball in the American state of Texas, each has been named MVP of the NBA Finals and each reached the podium at EuroBasket 2005 when Germany captured silver and France bronze.

Now the players have leading roles in the 24-team EuroBasket in Lithuania, with San Antonio Spurs playmaker Parker having fired the French to wins over Latvia and Israel, and Dallas Mavericks ace Nowitzki having led Germany past the Israelis and Italians.

The two won't have the stage all to themselves.

France have been getting outstanding performances from Boris Diaw, Mickael Gelabale, Joakim Noah and Nicolas Batum while Germany's Chris Kaman, rising star Robin Benzing, Heiko Schaffartzik and Johannes Herbert have been in top form.

"I have no idea what the situation in the group is," Germany coach Dirk Bauermann said after Thursday's gritty win Over Italy.

"I just know that we're going to try and win the next game and that's the only thing we worry about.

"We'll get as much rest as possible, try to define a game-plan against France that gives us a chance of winning and then fight and scratch and do the best you can in the game. That's all there is to it."

Benzing, meanwhile, says he should be okay to play against France after taking a knock on his shin and limping out of the Italy game shortly before the end.

With an ice-pack on his leg after the contest, he said: "Yes, it's okay. It was just a hit."

Head to Head: France beat Germany 70-65 at EuroBasket 2009.

Last Time Out: France thrashed Israel 85-68 and Germany beat Italy 76-62.

Key Match-Up: Boris Diaw v Dirk Nowitzki.

Key Stat: Germany center Chris Kaman, who faces a big test against Joakim Noah of France, had 17 points and 17 rebounds against Italy.

X-Factor: Robin Benzing. The German forward has been outstanding in his two games for the Germans and his perimeter shooting can make a real difference.

Sounding Off: "That's the best thing about being here, to be able to compete against the best players in the world and I'm really looking forward to it" - Germany's Johannes Herbert.
---
| | |
| --- | --- |
| Mistwell | 10-06-2011 12:37 PM |
---
Re: Kaman EuroBasket Watch:

In one sense it's a shame he didn't get to play longer, as it's good for him to experience that competition, and play along side a great player like Dirk. In another sense though, his team not going on at least significantly reduces the risk of another injury to Kaman.
All times are GMT -4. The time now is

11:00 AM

.
Powered by vBulletin Version 3.5.4
Copyright ©2000 - 2018, Jelsoft Enterprises Ltd. Terms of Use/Service | Privacy Policy