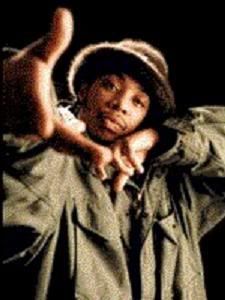 It'sprobably safe to say that the Wu-Tang Clan, sans actual instruments (a la The Roots), is the only group in Hip-Hopís history to really come across as an actual band. Yeah, a band. Remember those? I know, you thought those were just for Rock & Rollers. Each member plays his respective role and serves as a piece of a collective unit. During the Wuís rise to prominence in the mid Ď90s, it was obvious who the bandís lead artists were. The beautiful thing about the Wu, and clearly an indication of just how powerful their movement and music was, is that even the artists who fans ultimately pigeonholed into supporting roles eventually got their chance to make their mark individually.
In October of 1999, U-God dropped his heavily anticipated solo debut, Golden Arms Redemption, and the album went on to perform respectably. But with two more Wu albums, and a slew of solo releases from the other members cutting into his face time, itíd be practically five years until he resurfaced, this time independently with U-Godzilla Presents: The Hillside Scramblers. The project was U-Godís attempt to spread the word about some of the young gunners from his hometown Park Hill Projects, and while it was well received among fans still dwelling in the 36 chambers, it did little to bolster his appeal among mainstream Hip-Hop consumers and critics. The same could be said for his 2005 LP Mr. Excitement. All in all, U-God knows and admits that he hasnít yet reached his full potential, and while heís hardly one to disclose many details about his upcoming plans, he definitely knows where his mistakes were made. As Wu-Tang Week progresses, we spoke to Golden Arms about the past, the indie grind, and why his quest for redemption continues.
AllHipHop.com: In Hip-Hop itís always about whatís new and whatís fresh. You just got off tour and it was crazyÖ What do you think it is that allows you 13 years after your introduction, and not being a new group, to still come in and really sell out shows and have fans all over the place?
U-God: Well, thatís from putting in a lot of work through the years. Our catalog is humongous. We got one of the biggest catalogs in the mothaf**kiní industry besides Sugar Hill [Records]. You see a lot of dudes poppiní off right now, new dudes and all, that but the amount of work we done put in is incredible, man, and those albums still sell and people still come out and still wanna see the old s**t. Itís like A Tribe Called Quest. A Tribe Called Quest ainít been out in like six or seven years and right now their filling up 3500-seaters. Just because you donít hear them on the radio donít mean that they ainít poppiní! People donít realize the game, man; the game is deeper than that. If you put in your stones and your bricks for years, youíre gonna have a fan base. Itís like Metallica. Dudes are like the Rolling Stones. So, all we gotta do is drop a new album or drop some new songs and we can go right back out there and go on tour again.
AllHipHop.com: We have a lot of camps out now claiming their a movement. The Wu truly was and is a movement. Why do these other crewís movements feel so fabricated in comparison?
U-God: Well, they feel like they wanna be us because we ainít around. We ainít doiní nothing. We ainít doiní nothing thatís really stickiní to dudesí ribs like that right now. So, they feel like they can come out! Before, if you wanted to be like somebody, you was a biter. You was a wack n***a. But right now, that seems to be the style. Monkey see, monkey do. Dudes right now canít even compare to being the Wu. First of all, if you wanna be the mothaf**kiní Wu, your first album gotta go four to five million [units sold]. Second, you gotta drop three, four, five more consecutive platinum albums and get a Grammy on one of those mothaf**kiní joints, like Meth did! So, in order for you to be Wu-Tang, thatís the kinda s**t you gotta put up, those type of numbers, those type of things you gotta do.
AllHipHop.com: You were locked up for most of 36 Chambers and came out and you were able to hop on the two songsÖ
U-God: Yeah, ďProtect Ya NeckĒ and the ďMystery of Chess Boxing.Ē
AllHipHop.com: Looking back on the situation you had came out of, do you ever bug out off the fact that you ended up being a character in a video game and that youíd be in a comic book and all this other crazy stuff?
U-God: Right now, the amount of work we put in I would never think it would get to this level. None of us ever thought it would get to this level. We did what we did when we were 21. We were still like in our twenties when we got our platinum album and a lot of cats ainít achieved that even in their old age. So, we was kinda before our time so when we did get out in the world, s**t was crazy. But hell no, I would never think it was gonna get to a level to the spot Iím on right now, because I only got two joints off and I had to go do my lilí time out, but when I came home, I had to get back in shape.
AllHipHop.com: You mentioned a new Wu Album. After doing a couple Wu albums, what do you think the experience would be like going in and recording and what kind of new topics and sounds can you explore being that this will be like album number five for the Wu?
U-God: I ainít gonna say nothing about none of that s**t because I donít give away my mothaf**kiní hat tricks and my lilí tricks in the trade. But more or less, I can say that thereís a lot of things to talk about. Whatís going on? A lot of books out there that dudes ainít up on, lot of knowledge, Illuminati s**t is still in effect, Enron, scams that people doiníÖA lot to talk about, a lot of s**t goin on: murder, death, kill, booze, drugs, tattoos, a lot of violence out there. So, I cant really say what the chemistry, what the formula gonna be because everybody done took from my formula already, like down to the bone. So, we canít really come back with that old type of formula unless you come with some crazyÖcome hard and thatís basically how I like to come. I wanna come hard, hard, hardcore with some good hooks with some good beats. Take your time in there and put it together like how we used to do it! Thatís all a process and lot of people donít know what it takes for a nine-man group to make that process happen. íCause you got nine ill MCs who feel they should be number one! So, we got to humble ourselves again and get up in there and bake a nice cake.
AllHipHop.com: At this point, how motivated would you say you are to doing a Wu album?
U-God: Iím with it, as soon as n***as give me the red light like itís real like that. Iím in there like Iím doiní what I gotta do. Right now, Iím out here working on my s**t, so I ainít waitiní for nobody. Iím still doing me at the same time. Iím just trying get some better production goiní on, get some nice beats some real chunky s**t. Iím out here searching for some diamonds.
AllHipHop.com: What type of sound is it that, when you say you looking for diamonds?
U-God: I canít explain it to you, bro, itís just gotta be heavy and big and thatís all I can tell you.
AllHipHop.com: Do you ever think it makes more sense for the Wu-Tang Clan to do an independent album as a group than actually go through a label?
U-God: This independent s**t is way more complicated than what you think. You gotta get in those programs and they gotta be serious business. Personally, Iím getting back into a major. I ainít playiní, Iím goin back to a major. Iím getting back up on the diving board ícause thatís where you makiní money. Ainít nothing wrong with being on a major. Oh, everybodyís always talkiní about a major, B, thatís a myth. A major takes care of you, you sell records, you get taken cared of. Your s**t flopped, you donít get taken care of, itís business, man. Itís like I was playiní for the majors and I got wounded or something and now Iím in the minors and s**t, playing independent games. Now, I gotta make my way back into the f**kiní majors by hittiní my own best independently. So, now when you get back to the majors you gotta come back with Reggie Jackson numbers, you gotta start hittiní home runs. Thatís what they respect. Make some s**t that make n***aís hair stand up and thereís no way around that. Look at E-40, E-40 was an independent for awhile too, he couldnít take it no more. He said I gotta get back to the basics. Gotta get back to the majors and look at a n***a.
Allhiphop: With the way Hip-Hop is right now, coming back as a collective, do you go ahead and come in swinging swords or do you take it in a different direction?
U-God: Right now, I ainít telling nobody how Iím cominí, man. I just do what I do. Just be surprised, I got s**t up my sleeve. Iíím always doiní some new s**t. Iím out here right now f**kiní with dudes. Iím here in L.A., Iím not just doiní Hip-Hop, I write R&B I do all types of s**t and itís just who Iím around that could bring the situation now. I can go anywhere and make songs with all type of dudes. Like yesterday, I was with Motor Head and Foo-Fighters just chilliní, drinkiní and s**t. Iím coming hard and I come out how I wanna come out right now. Iím content with my s**t. I donít give a f**k if it only sell 3,000 or 4,000 mothaf**kiní copies. I know 5,000 n***as copped the s**t, cool. Iím basically startiní all over again, really. We start a solo career; everybody always identifies me with Wu-Tang. Yeah, Iím great with my crew because I already accomplished that, but as far as my solo career, I have not popped off solo. The only thing thatís good about it is I got a toenail in the door. [Laughs]
http://www.allhiphop.com/features/?ID=1520