What the Miami Heat Need to do to turn it Around!!!!!!!
The Miami Heat need to make a blockbuster trade now to have any chance to make a run at the championship next year or face another disappointing season. Pat Riley has always been known for making big trades that changes the look of the franchise, while with the Miami Heat. Big trades that have brought players like Alonzo Mourning, Eddie Jones, Shaquille O'Neal, Jason Williams, Antoine Walker, & Ricky Davis and have got us an NBA Championship. Riley has a couple of expiring contracts and needs to move them to get players back so that we can have some fire power next season. The Miami Heat's expiring contracts consist of J. Williams - $8,937,500, R. Davis - $6,817,500, A. Mourning - $2,762,500, and 5 small contracts. The Heat need to look for trade partners that want to part ways and give up their franchise players in order to create some cap space to be a big spender in free agency this summer (2008).
Players that are eligible for free agency in 2008.
Baron Davis (player option)
Corey Maggette (player option)
Elton Brand (player option)
Shawn Marion (player option)
Ron Artest (player option)
Antawn Jamison
Gilbert Arenas (player option)
I propose this trade scenario:
A blockbuster trade between the Miami Heat and Sacramento Kings
There are two trade scenarios between these two teams:
The 1st is more sensible and more likely to happen
The 2nd is capable of being pulled off, but may not go through
1st----
Miami: Going
PG Jason Williams
SG Ricky Davis
PG Smush Parker
Sacramento Kings: Going
PG Mike Bibby
SF Ron Artest
http://games.espn.go.com/nba/feature...4~14&te=&cash=
2nd----
Miami: Going
PG Jason Williams
SG Ricky Davis
PG Smush Parker
C Mark Blount
Sacramento Kings: Going
PG Mike Bibby
SF Ron Artest
PF Shareef Abdur-Rahim
http://games.espn.go.com/nba/feature...3~23&te=&cash=
Why this trade benefits both teams:
The Miami Heat finally gets 2 players that have something to contribute to the team. A PG that has the capability to run the team, but most importantly a PG that has a jump shot and has range to hit the open 3 constantly. Also the Heat would get a SF, a position that has been lacking since the departure of A. Walker and J. Posey, but even with them the SF position was inconsistent. With R. Artest at SF, it gives everything we would ask for from the SF position, a player that plays great defense, can score and has a range of offensive skills.
The Sacramento Kings get rid of 2 players that are not in the picture of their future franchise. The Kings might see R.Artest as a mistake and fix this mistake by getting rid of him. The Kings also get rid of M. Bibby's huge contract. The Kings will free up cap space, which will allow them to rebuild the franchise, they way they see fit. With the unloading of these 2 or 3 players the Kings will be left with a bunch of young talent, except for B. Miller. With this cap space the Kings now have the ability to sign a free agent that they want to lead their franchise. Maybe S. Marion, a player that will have the ability to show that he is a top player in the NBA and can lead a team, or G. Arenas, a player that has great scoring ability and a clutch performer, or E. Brand a big force in the paint that gives them a post presence, which is important formula for an NBA championship.
If this trade goes down:
New Miami Heat Roster
Starting:
PG Mike Bibby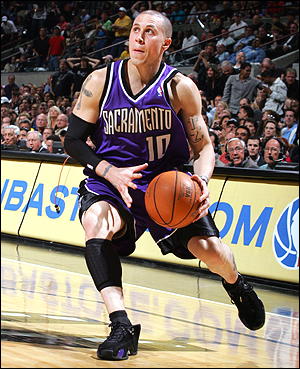 SG Dwayne Wade
SF Ron Artest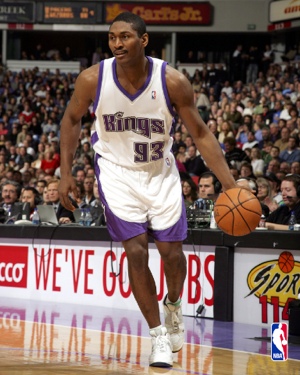 PF Udonis Haslem
C Shaquille O'Neal
2nd String:
PG Chris Quinn
SG Daequan Cook
SF Dorell Wright
PF Shareef Abdur-Rahim
C Earl Barron
3rd String:
Joel Anthony
Alexander Johnson
Luke Jackson