Island Hoops Celebrity Basketball Clinic 2015
The 2015 Island Hoops St. Maarten Celebrity basketball camp, featuring Iman Shumpert, was 9am-12pm on Saturday August 8 for ages 8-14 and 9am-12pm on Sunday August 9 for ages 15+. Signup for this year's camp took place at the SXM Vision Center (aka SXM Optical) and cost $35. The camp location was the same as last year: the Melford Hazel Sports Gym.

InsideHoops.com wasn't involved with the camp this year and didn't make it to St. Maarten but we trust it was a fun, well-run event.
---
Island Hoops presents St. Maarten's best NBA Player Basketball Clinic
2014: Sint Maarten basketball camp September 6-7, 2014 with Iman Shumpert, Chris Copeland, Corey Williams
UPDATE 1: Event was a huge success! Local St. Martin media preview here, event recap here.
UPDATE 2: Here's a very cool video from Iman Shumpert with a look at how the camp went: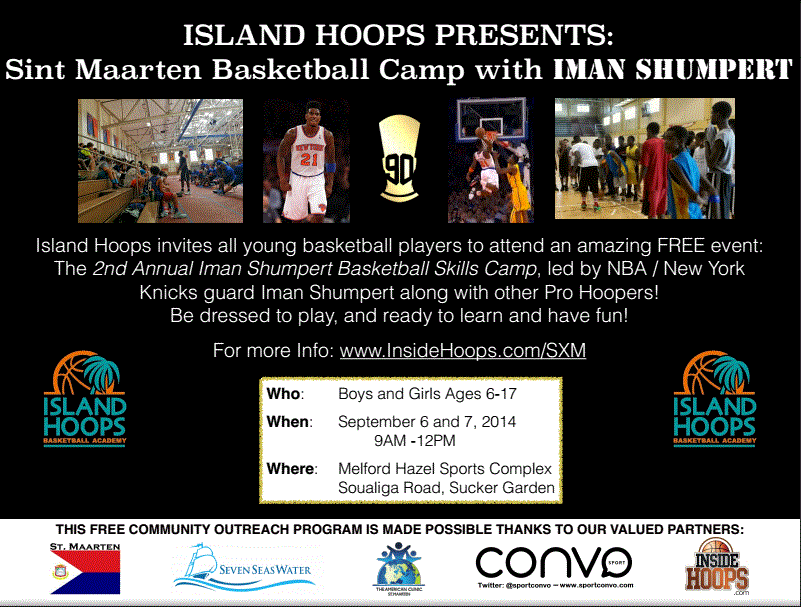 PHILIPSBURG -- Island Hoops, a Sint Maarten youth basketball academy, presents the 2nd Annual Iman Shumpert Basketball Skills Camp at Melford Hazel Sports Complex on Soualiga Road, located in the Sucker Garden neighborhood, September 6 and 7 from 9 a.m. to 12 p.m. The sports camp is free, and all young basketball players (general ages 6-17) are encouraged to attend, dressed to play and ready to learn and have fun.

Local fireman and youth organizer Paul Bell founded Island Hoops to give young athletes the opportunity to continue to develop their basketball skills and grow as a player. The sports camp was made possible by local businesses and citizens working together to make this free and available to all. Sponsors for 2014 include SportConvo.com, Seven Seas Water, The American Clinic, and InsideHoops.com.

Shumpert, an exciting young NBA player with the New York Knicks, donated his time last summer to speak with local St. Maarten youths about the importance of keeping their minds and bodies strong. He provided basketball tips, posed for pictures and offered advice to aspiring young athletes. Kids who attended last year absolutely loved the experience.

This summer, Shumpert returns with some pro-level friends, ready to host a weekend basketball-intensive sports camp, complete with basketball drill stations, 5-on-5 games, group discussions and educational sessions on skills, fitness and more.

Expected to be on board for this year's basketball clinics are versatile Indiana Pacers forward Chris Copeland, international basketball star Corey "Homicide" Williams, and some pro trainers/instructors.

Also attending the St. Maarten camp to provide support is national NBA analyst Jeff Lenchiner, the founding editor of InsideHoops.com.

Island Hoops works in collaboration with the Ministry of Education, Culture, Youth & Sports Affairs as well as the Ministry of Health, Social Development & Labor, the local Basketball Association and private sponsors in order to bring Sint Maarteners high-quality, exciting and unique youth programs.

All young players across Sint Maarten (the Dutch side) and Saint Martin (the French side) -- and any other young players in the Caribbean who can make it -- should attend and enjoy!

This is the official event page. Last updated September 3, 2014.