Inside Hoops: The Web's Most Popular Basketball Site
Welcome to Inside Hoops, the most popular independent pro basketball website in the world, with a regular readership of hundreds of thousands of the biggest hoops fans on the planet.

Founded in 1999, InsideHoops.com, a online news service providing hoops news, views and analysis, steadily grew to become the most popular basketball website on the Internet. Updated numerous times each day, every day of the year, InsideHoops.com provide essential info like scores and stats, in-depth NBA news coverage, the hottest rumors and gossip, expert analysis from press row, great fan editorials from the living room sofa, and exclusive interviews with the stars of pro and amateur basketball.

Our primary focus is NBA basketball. Our coverage is is professional and from people who work in sports full-time, but we also make sure to keep things fun and entertaining.

We have basic college hoops coverage, and previews and recaps of the big NCAA events that matter, especially the post-season tournament. We also do regular features on the biggest national high school events, and also cover the best of streetball, gear and sneakers, and much more.

The InsideHoops.com message board is world famous and as of October, 2010 has over 89,000 confirmed, registered members. Our NBA forum is legendary and has thousands of new posts every day.

We are widely known as one of the world's most influential sports sites. We created trends that the rest followed. We were creating a style of coverage and updating features in 1999, 2000 and 2001 that years later became staples in how sports is covvered. If we weren't first, we were close. Almost every basketball site on Earth, if they weren't influenced directly by InsideHoops.com, they were probably influenced by someone who emulated us.

Sports Illustrated called InsideHoops.com "a haven for pro basketball junkies" in their December 25, 2000 issue. Forbes named us "Best of the Web." Newsweek recommended us for "clever analysis." Yahoo Internet Life recommended the world famous InsideHoops rumors page, which was well-established before any similar pages on other sites even existed. We helped create the mold that the world began to follow.

InsideHoops.com has been quoted as a source by virtually every media outlet on Earth that covers basketball on a regular basis. Our information or analysis has been referenced by the New York Times, Associated Press, Wall Street Journal, SportsTicker, NBA TV, VH1 television, TNT television, ESPN the Magazine, Sports Illustrated, ESPN.com, CNNSI.com, NBA.com, MSNBC/NBC, CBSsports.com, New York Post, Chicago Tribune, Los ANgeles Times, and countless other major outlets, including many overseas, including BBC radio worldwide and more.

The editor of InsideHoops.com is a regular guest on the biggest sports radio stations in North America. He also does occasional television.

InsideHoops.com began using Twitter in 2009, and as of October of 2010 we have close to 40,000 followers.

For the most-read, most influential pro basketball coverage in the world, there are only a small handful of essential, go-to media outlets, and InsideHoops.com is one of them.

The Founder of Inside Hoops

A born-and-raised New Yorker who still lives and works out of NYC, Inside Hoops founder Jeffrey Lenchiner attended world famous Fiorello H. LaGuardia High School of Music & Art in Manhattan; better known as the "Fame" school, where he excelled in math and science while developing as a musician. Jeff shared hallways with Jennifer Aniston, Adrien Brody, Carl Payne ("Cockroach" from Cosby Show), Adrian Grenier (Vince of HBO's Entourage), Yunjin Kim (Asian chick on Lost), Tichina Arnold ("Pam" from Martin), Rory Cochrane (Dazed and Confused, Empire Records), Bokeem Woodbine (lots of stuff) and shared classes with Omar Epps, Marlon Wayans and others who went on to make a name for themselves. Other alumni of the school are Al Pacino, Wesley Snipes, Billy Dee Williams, Slick Rick, Dana Dane, MC Serch (3rd Bass), Hal Linden, Ben Vereen, Suzanne Vega, Eartha Kitt, Janis Ian and Bela Fleck. He worked in music for 10 summers as a kid, working in public relations, then moving into a recording studio and learning production, as well as hosting FM classic rock and AM talk radio shows.

In college, Jeff studied electrical and mechanical engineering, and advanced mathematics.


Jeff Lenchiner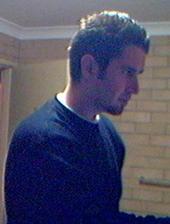 For his first year and a half after finishing college, looking to travel as much as possible, Jeff took three trips around Europe, exploring dozens of famous cities and towns.

After a few years of working for financial firms, Jeff got into journalism and began writing basketball stories for a major overseas magazine, doing a major cover story on then-rookie Kobe Bryant, and becoming the main U.S. NBA writer for what at the time was Australia's only famous basketball publication.

In late 1999, Jeff decided to shake life up, and over the next few months he moved on from working in finance, got out of his NYC apartment lease, bought a laptop, started InsideHoops.com, and flew to the other side of the world. Beginning a trip that had no end in sight, Jeff flew to Australia and spent six months traveling the entire East coast of the continent. He started in Sydney, spent a month learning to surf in a legendary mecca called Byron Bay, kept the habit going in Surfer's Paradise, and continued to travel north from New South Wales to Queensland, eventually going north enough where surfing ends and the Great Barrier Reef begins. Jeff spent about two months getting to know the wonders of explorating ancient coral reef and seeing life below the ocean surface.

When not having fun, meeting people and enjoying paradise, Jeff kept building InsideHoops.com up. It began to develop a cult following.

In late 2000 Jeff left Australia and lived in Los Angeles for almost one year. By then, InsideHoops.com had a solid readership and a terrific reputation as a leading source of fun, educated basketball opinions. Jeff began doing radio interviews. The website kept growing. Inside Hoops was becoming famous.

Jeff finally returned to New York City in mid 2001.

Now in 2009, Inside Hoops is one of the world's most popular sports websites. It's a trusted media outlet and the web's most well-established pro basketball website. Jeff has contacts and sources across every level of basketball. And at this point, if someone doesn't know Inside Hoops, they've been living in a hole.

A regular guest on major radio stations around the country, Jeff has been interviewed nationwide on ABC radio, nationwide on Fox Sports radio, worldwide on BBC, on lots of ESPN affiliates, across Canada on "Team Radio," on famous WFAN radio in New York, and elsewhere, hundreds of times. Jeff is also interviewed on television occasionally and has been on local New York City news, nationwide on VH1's "Fabulous Life of Hoop Superstars," quoted on TNT television during the NBA playoffs, on NBA TV repeatedly, etc.

At 6'3", 200 lbs, hailing from New York, the point guard of Inside Hoops... Jeff Lenchiner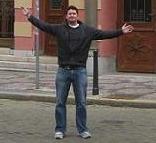 Since 2006, Jeff has contributed regularly to HOOP, the NBA's official magazine. He also wrote almost all of the All-Star player profiles for the official 2007 NBA All-Star weekend event program. For 2008 All-Star weekend he wrote the event program's article on Team USA. In the summer of 2007, while still keeping InsideHoops.com updated daily during the offseason, Jeff spent around three months traveling Europe, spending two weeks in Paris, 1.5 weeks in Amsterdam, 1.5 weeks in Florence, and around 5-6 days in Berlin, Vienna, Rome, Venice, Cannes, the Swiss Alps and elsewhere.

In March of 2008, Jeff operated Inside Hoops out of South Beach, Miami.

Jeff returned to Europe again for the full summer of 2008, spending around a week in each of the following places: Lisbon, Madrid, Sevilla, Barcelona, Nice (with time in Antibes and Monte Carlo), the Swiss alps (two weeks of hiking), Munich, Prague, Berlin and Amsterdam, with quicker stopovers in Milan, Zurich and Cologne.

In February of 2009, Jeff will leave NYC's extra cold winter behind for a while and operate Inside hoops out of San Francisco.

While Jeff does travel a lot, during the NBA season he's always in an NBA city and covering the league from the press box, constantly interviewing the biggest stars in pro basketball and delivering the best NBA content on the internet.

To get Jeff on your radio or television show, email editor at insidehoops dot com for interviews on anything NBA-related worth discussing.



Inside Hoops Interested in Partnerships



InsideHoops.com sells ads, and we're also always interested in partnerships. We can do promotional exchanges, share our content, create customized content to suit your needs, and just about anything else. Player interviews. Feature articles. Anything you need. There's no limit. Contact us for more information.



Link to InsideHoops.com



We encourage you to create links on your site to www.insidehoops.com -- permission granted. We prefer that you link to "www.insidehoops.com", but it's OK to link directly to specific pages or sections of the site. For permission to reprint a feature or anything else, contact us.



Write For Us



InsideHoops.com has an open submission policy. Anyone who knows basketball and can put a sentence together is invited to contribute articles to our site. Content credited to "InsideHoops.com" comes from our professional staff, but we also post plenty of editorials and additional articles from educated fans, professional writers, freelancers and others. Write for us and you'll be read by tens of thousands of fans over the course of a few days and by over 125,000 different fans after about a month.



Advertise on InsideHoops.com



If you want to reach a basketball readership, you absolutely need to be seen on InsideHoops.com. If we promote something, everyone that matters in basketball -- the most hardcore fans, NBA players, famous streetballers, agents, other media members, announcers, public relations people, and others will hear about it, either by reading our site, or getting told about it by their friend or co-worker who does.