Rising Stars Challenge
InsideHoops.com
February 16, 2018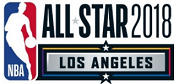 The NBA's top players will be in Los Angeles for All-Star Weekend 2018. But before 24 of the league's best take the court on Sunday, the celebrity game and Rising Stars Challenge took center stage on Friday evening. Team World, led by Rising Stars Challenge MVP Bogdan Bogdanovic, who scored 26 points (seven 3-pointers) and made six assists, defeated Team USA 155-124. Buddy Hield (29 points) and Jamal Murray (21 points) also helped lead Team World in its blowout victory. Jaylen Brown led all scorers with 35 points, but it wasn't enough for Team USA to keep things competitive. -- ESPN.com
There were too many dunks to count, 34 three-pointers, 32 turnovers and one mildly entertaining talent showcase Friday at the Staples Center. The World led by eight after the first, 19 at half, 30 after three quarters and 31 after four. So it went. -- SI.com
The game ended with Team USA poaching needless steals, then missing highlight-caliber dunk attempts. That should tell you enough most of what you need to know about the game, to be honest. The game's MVP was Bogdan Bogdanovic, who drained seven threes on his way to 26 points, in addition to six assists and four rebounds, but Jaylen Brown actually led it in scoring with 35 in a losing effort. -- SI.com
It's been a good month or so for Donovan Mitchell. The Jazz have won 11 straight, he's playing his way into the Rookie of the Year conversation and an alley-oop to himself off glass in the first quarter served as a beautiful reminder of the fact that he could totally win the dunk contest on Saturday. -- SI.com
The 2018 NBA Rising Stars Challenge was about what everybody expected it to be: a showcase of the NBA's young talent, but no real stakes involved in the whole thing. It's mainly a defenseless highlight show and although that can bother some it's perfectly fine for others. -- CBSsports.com
Team World 155, Team USA 124 is the final score. Bogdan Bogdanovic is the MVP! He finished with 26 points while knocking down seven triples. Buddy Hield actually led Team World in scoring, tough, with 29 points. He needed 22 shots to get there, though. Jaylen Brown led Team USA with 35 points on 14-of-21 shooting. Kyle Kuzma had 20 points. -- SBnation.com
Bogdan Bogdanovic interview quotes after 2018 Rising Stars Game
Q. You had said you have been in All-Star Games before over in Europe, you had an idea of the way the game would be played. Did that help you come out and relaxed and play the way you played?
BOGDAN BOGDANOVIC: As I said before this game, someone asking what's your routine before the game, before the All-Star Game, I answered the same. I approach every single game the same way. Try to compete to be the best version of myself that day. It just happened tonight. You never know when it's going to happen.
Q. At what point did you kind of realize that you were hot with that real deep, almost half-court shot?
BOGDAN BOGDANOVIC: I don't know. I just kept shooting, and I felt good.
Q. What was it like scoring against De'Aaron Fox, your teammate that you play against in practice every single day?
BOGDAN BOGDANOVIC: I told him I would score on him, so I should bet as well, but we didn't bet. So I didn't get some extra money. But it was fun to play against him. We're looking forward to -- as you can see, we have great chemistry on the court and off the court, so we are looking forward to transferring that on court with the Sacramento Kings.
Buddy Hield interview quotes after 2018 Rising Stars Game
Q. Buddy, could you talk briefly about your experience tonight in tonight's game?
BUDDY HIELD: My experience tonight, it was fun. Shout out to Team World. We came out there, and we executed to get the win. Had fun, and the crowd stopped booing us, but the whole thing is to come here and have fun and get the win.
Q. Buddy, did you and Bogie (Bogdanovic) kind of have a little competition between yourselves, who could score the most points and make the most threes tonight?
BUDDY HIELD: No, we didn't, actually. I got hot first, and then Bogie got hot, he continued to stay hot. I don't know, I think Bogie had 29 and I had 26. So it was good tonight for both of us. We represented Sacramento well and represented our countries well. So the whole thing was to come here and stay aggressive and get the win.
Q. Buddy, the World put on a really good show tonight. What do you think this means for international basketball? I came from Basketball Without Borders this morning. Do you think this shows that the NBA is a global sport and that all the world athletes are just doing great?
BUDDY HIELD: You know, it was the All-Star Game, so it wasn't like a really competitive game. But the world has been getting better. I'm proud to see a lot of guys around the world from France, Australia, you have Embiid from Cameroon, everybody is showing progress and the world is showing progress catching up to American basketball. You know, this shows how hard we've been working and how dedicated we are to this game.
Q. Can you talk about playing with Bogie on this stage versus playing with him in Sacramento? What is it that you've seen with him as far as a teammate?
BUDDY HIELD: Oh, he's great, he's great. Bogie likes the big stage. We both embrace it. We're both alpha dogs and we're both competitors. This show is for him. He knows it's an important show. You saw how he got hot earlier, and nothing but love for Bogie. He's a team-first guy. You see him out there having fun, but he's a team-first guy. He's a good- character guy. I love being around him and I love being his teammate.
Q. Buddy, you said it is an All-Star Game, of course, but what did you take away from this, from playing this well on this stage?
BUDDY HIELD: Oh, you know, I'm just blessed to be here, of course. I just thank God for the opportunity of being here. A lot of people don't get to be here. You can't take this opportunity for granted. A lot of guys around the world wish they could be in this position right now. So just blessed every second that I come out here and I represent myself, my team, my country, and the NBA on a high level.
Jaylen Brown interview quotes after 2018 Rising Stars Game
Q. Considering that you weren't invited to this last year, what was it like to get out there and show people what you do?
JAYLEN BROWN: It was fun. It was a great experience. I appreciate the NBA for having me. I appreciate the coaching staff. I think they did a good job of trying to relay a message for us to compete. We just fell a little bit short today. It happens.
Q. This All-Star brings out international fans. You're obviously used to getting fan love from college to the pros. But what was that interaction like with the international fans during All-Star?
JAYLEN BROWN: Oh, it's amazing. I love to travel. Traveling is one of the things I love to do. This summer I plan to spread my wings a little bit, so I'm looking forward to seeing some fans abroad and making some connections. Just seeing some unfamiliar faces.
Q. Any particular motivations just playing in front of a world audience the way that you were tonight?
JAYLEN BROWN: Yeah, you know, playing in front of a world audience, and definitely I feel like I've got a chip on my shoulder, so I come out with that tenacity that I want people to recognize. I want people to see. I just come out and play with that fire and let everything else fall into place.
Q. Lastly, you started and Jayson Tatum came off the bench. But you did share a few minutes of time during two different stints during the game. What was it like to be able to play with a teammate in a game like this?
JAYLEN BROWN: That's fantastic, man. J.T.'s my brother. This year we've grown tremendously together. Just studying older guys -- Kyrie, Marcus Morris, Baynes, and learning the game together, Al Horford. So me and him have gotten better together. So anytime you can grow with somebody in this league and also be successful, it's always dope being a part of situations like this. Like the Rising Stars Challenge I think is pretty cool. I think in the future, if we continue to stay together and continue to grow, I think we could be special.
Q. Little off topic, but playing with Kyrie Irving, how does he make your game better?
JAYLEN BROWN: Oh, I think that's a simple question. Kyrie draws so much attention, he's such a good player, less focus is on you. So you've got to come and show up. Kyrie is probably one of the best players in the world, so when he's on the floor, he just makes everything so much simpler. When he's not on the floor, you can tell the difference.
Q. Jaylen, I know you're not going to be in the dunk contest tomorrow night, but do you feel like you already won the dunk contest tonight with the way that ended?
JAYLEN BROWN: Oh, man. No, I think the dunk contest is going to be pretty cool. I'm interested to see. I told them I want to see what they're going to do this year, and if they do something spectacular, then I'll get in the next year. But I told them I'm going to see what you all got, and then I'll see if I get in it or not.
2018 RISING STARS GAME PREVIEW
NBA All-Star Game starter Joel Embiid of the Philadelphia 76ers headlines the list of 20 players selected by the league's assistant coaches to play in the 2018 NBA Rising Stars game on Friday, Feb. 16 (9 p.m. ET) at Staples Center in Los Angeles.
Dario Saric and Ben Simmons join Embiid to give the 76ers three players in Rising Stars, tied for the most among any team. The Los Angeles Lakers also earned three selections, with Lonzo Ball, Brandon Ingram and Kyle Kuzma set to play at their home arena. The game will air on TNT and ESPN Radio.
For the fourth consecutive year, the league's annual showcase of premier young talent during NBA All-Star will pit 10 first- and second-year NBA players from the U.S. against 10 first- and second-year NBA players from around the world.
The three Philadelphia players will compete for the World Team. Joining Embiid (Cameroon), Simmons (Australia) and Saric (Croatia) are the Sacramento Kings' Bogdan Bogdanovic (Serbia) and Buddy Hield (Bahamas), the Memphis Grizzlies' Dillon Brooks (Canada), the Chicago Bulls' Lauri Markkanen (Finland), the Denver Nuggets' Jamal Murray (Canada), the New York Knicks' Frank Ntilikina (France) and the Indiana Pacers' Domantas Sabonis (Lithuania).
In addition to Ball, Ingram and Kuzma, the U.S. Team features reigning Kia NBA Rookie of the Year Malcolm Brogdon of the Milwaukee Bucks, the Boston Celtics' Jaylen Brown and Jayson Tatum, the Atlanta Hawks' John Collins, the Bulls' Kris Dunn, the Utah Jazz's Donovan Mitchell and the Dallas Mavericks' Dennis Smith Jr.
2018 Rising Stars Game Roster highlights include:
• The World Team's 10 players hail from nine different countries.
• Embiid, who will make his NBA All-Star Game debut in his second season, leads all first- and second-year NBA players in scoring (23.8 ppg), rebounding (11.0 rpg) and blocked shots (1.88 bpg). He is set to become the first 76ers player to start an All-Star Game since Allen Iverson in 2006.
• Simmons, the Kia NBA Eastern Conference Rookie of the Month for October/November, is on pace to become the first rookie to average at least 16.0 points, 7.0 rebounds and 7.0 assists in a season since Magic Johnson in 1979-80.
• Chicago's Markkanen (15.5 ppg, 7.7 rpg) is the fastest player to 100 career three-pointers in NBA history (41 games).
• Denver's Murray was the MVP of last year's Mtn Dew Kickstart Rising Stars, finishing with game highs of 36 points and 11 assists to lift the World Team past the U.S. Team 150-141. This season, Murray has increased his scoring average to 16.2 points from 9.9 as a rookie.
• Kuzma, the 27th pick in the NBA Draft 2017 presented by State Farm and the Kia NBA Western Conference Rookie of the Month for October/November, leads the Lakers in scoring with 16.7 points per game. The last rookie to lead the team in scoring in a season was the Minneapolis Lakers' Elgin Baylor in 1958-59.
• Utah's Mitchell, who earned the Kia NBA Western Conference Rookie of the Month award for December, is averaging a team-high and rookie-best 19.2 points. The Jazz has never had a rookie lead the team in scoring for a season.
• Boston's Brown (14.2 ppg, 5.5 rpg) and Tatum (13.5 ppg, 5.5 rpg), the Kia NBA Eastern Conference Rookie of the Month for December, have started all season for the East-leading Celtics.
• Chicago's Dunn ranks third in the NBA in steals (2.05 spg), leads all second-year players in assists (6.4 apg) and has raised his scoring average nearly 10 points from last season (3.8 to 13.7 ppg).
• Simmons (four), Ball (two) and Dallas' Smith (one) have combined for seven triple-doubles, which is one more than produced by rookies in the previous five seasons combined.
• The World Team features five players who participated as campers in Basketball without Borders (BWB), the NBA and FIBA's global basketball development and community outreach program: Embiid (BWB Africa 2011), Markkanen (BWB Europe 2014; BWB Global 2015), Murray (BWB Global 2015), Ntilikina (BWB Europe 2015; BWB Global 2016) and Saric (BWB Europe 2010).
The NBA's assistant coaches chose the rosters for the NBA Rising Stars game, with each of the league's 30 teams submitting one ballot per coaching staff. Coaches selected four guards, four frontcourt players and two players at either position group for each team. They also picked a minimum of three first-year NBA players and three second-year NBA players for each team.
The head coaches for the Rising Stars game will be the lead assistant coaches from the 2018 NBA All-Star Game coaching staffs. The All-Star coaching staffs are determined by the best record in each conference through games played on Sunday, Feb. 4 among teams with eligible head coaches. Boston head coach Brad Stevens and Golden State Warriors head coach Steve Kerr are ineligible to coach in the NBA All-Star Game because they did so last year.
NBA opening-night rosters for the 2017-18 season featured 108 international players from a record 42 countries and territories. This marked the fourth consecutive season that opening-night rosters included at least 100 international players and that all 30 teams had at least one international player.