2017 NBA All-Star Weekend Info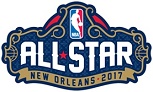 2017 NBA All-Star weekend, which will be hosted in New Orleans, Louisiana, will bring together some of the most popular and talented players in the league for the biggest annual celebration of the game. The 66th NBA All-Star Game, scheduled for Sunday, February 19 at Smoothie King Center, will reach basketball fans in more than 200 countries and territories in more than 40 languages. TNT will televise the NBA All-Star Game for the 15th consecutive year, marking Turner Sports' 32nd year of NBA All-Star coverage. Smoothie King Center will also host the Rising Stars Challenge on Friday, Feb. 17 and All-Star Saturday Night on Saturday, Feb. 18. The NBA All-Star Practice, NBA All-Star Celebrity Game and NBA Development League All-Star Game will take place at the Mercedes-Benz Superdome.

NBA All-Star weekend was going to be hosted in Charlotte, North Carolina, but for civil rights reasons the league revoked Charlotte's status as the host city, and in mid August announced that New Orleans has received the honor. And 2018 NBA All-Star weekend will be hosted in Los Angeles, California. The host city for 2019 NBA All-Star weekend has not been selected yet.

The NBA will change its All-Star voting process, the league announced Monday. Usually, the fans vote on All-Star starters. But voting will be split moving forward, starting with this season's game in New Orleans on Feb. 19. The fans will get 50 percent of the vote, current players will account for 25 percent and select media will make up the remaining 25 percent. Fans have voted for All-Star starters every year since the 1974-75 season. -- Norman Transcript, Dec. 19, 2016

Dec. 25, 2016: NBA All-Star Voting has begun.

KEY 2017 NBA ALL-STAR WEEKEND LINKS
- NBA All-Star Voting
- NBA All-Star Game
- NBA Slam Dunk Contest
- NBA Three-Point Shootout
- NBA Skills Challenge
- Rising Stars Challenge


----------------------------------------------------------

2016 NBA ALL-STAR WEEKEND PREVIEW INFO

The 65th NBA All-Star Game will tip off Sunday, February 14 at Air Canada Centre in Toronto. It'll be the first NBA All-Star weekend to be held outside of the United States. The game will be seen by fans in more than 200 countries and territories and will be heard in more than 40 languages.

NBA All-Star 2016 in Toronto will bring together some of the most talented and passionate players in the league's history for a global celebration of the game. Along with the NBA All-Star Game, the Air Canada Centre will also host the Rising Stars Challenge on Friday, Feb. 12, and All-Star Saturday Night on Saturday, Feb. 13.

2016 NBA All-Star Game: West beat East, Russell Westbrook All-Star MVP

2016 NBA Slam Dunk Contest: Zach LaVine beat Aaron Gordon in one of the best dunk contests of all time

2016 NBA Three-Point Shootout: Klay Thompson beat Steph and Booker in the Finals

2016 NBA Skills Challenge: Karl-Anthony Towns the winner

2016 Rising Stars Challenge Info: Zach LaVine won MVP.

2016 NBA All-Star Weekend Event Schedule:

Friday, February 12:
7pm ET: NBA All-Star Celebrity Game, at Ricoh Coliseum
9pm ET: Rising Stars Challenge, at Air Canada Centre

Saturday, February 13:
7:30pm ET: All-Star Saturday night (Skills Challenge, 3-Point and Dunk contests)

Sunday, February 14:
8pm ET: The NBA All-Star game

FRIDAY:

2016 NBA All-Star Celebrity Game: Raptors Global Ambassador Drake, a Grammy Award-winning artist, and actor Kevin Hart will coach the Canada and USA teams, respectively, at Ricoh Coliseum. Drake's Canada team will feature Arcade Fire's Win Butler, pro tennis player Milos Raonic, Drew and Jonathan Scott of HGTV's "Property Brothers" and actor/singer Kris Wu. Hart's USA team will include actors Anthony Anderson, Nick Cannon, O'Shea Jackson Jr. and Jason Sudeikis.(7 p.m., ESPN; Sportsnet ONE and TSN in Canada)

2016 Rising Stars Challenge Info: For the second straight year, the league's annual showcase of premier young talent will pit 10 first- and second-year NBA players from the U.S. against 10 first- and second-year NBA players from around the world. The rosters include three 20-year-old Timberwolves players: reigning Kia NBA Rookie of the Year Andrew Wiggins, the MVP of the 2015 Rising Stars Challenge; Zach LaVine, who will defend his title at Verizon Slam Dunk on Saturday; and Karl-Anthony Towns, who has won all three Kia NBA Western Conference Rookie of the Month awards this season. Three-time reigning Kia NBA Eastern Conference Rookie of the Month Kristaps Porzingis joins the Toronto-born Wiggins on the World Team. (9 p.m. ET, Air Canada Centre; TNT/ESPN Radio; Sportsnet ONE and TSN in Canada)

SATURDAY:

NBA D-League All-Star Game: Eleven players with NBA experience are set to play in the NBA D-League All-Star Game at Ricoh Coliseum. The NBA minor league's 10th All-Star also features the NBA D-League Three-Point Contest, which includes Jimmer Fredette of the Westchester Knicks, and the NBA D-League Slam Dunk presented by Verizon, which includes defending champion Jarvis Threatt of the Rio Grande Valley Vipers. (2 p.m. ET, NBA TV/NBA TV Canada).

2016 NBA Three-Point Shootout: Defending champion Stephen Curry and fellow All-Stars Chris Bosh, James Harden, Kyle Lowry and Klay Thompson join Devin Booker, Khris Middleton and J.J. Redick in an eight-player field that showcases five of the NBA's current top seven in three-pointers made this season. Curry, the defending champion, has made an NBA-high 245 threes in 50 games – 84 more triples than the next player (Thompson, 161) and only 42 shy of breaking his own single-season record set last season (286, in 80 games).

2016 NBA Slam Dunk Contest Info: Zach LaVine will defend his title against three first-time competitors in Will Barton, All-Star Andre Drummond and Aaron Gordon. LaVine is looking to join Michael Jordan, Jason Richardson and Nate Robinson as the only solo back-to-back winners. Barton, seeking to become the first Nuggets player to win the event, has the second-highest scoring average (15.5 ppg) among players who have come off the bench in more than half their games (New Orleans' Ryan Anderson, 16.9 ppg). Drummond, the NBA leader in rebounding and double-doubles, is the first Piston to appear in the competition since Jerry Stackhouse in 2000. Gordon has started the last 11 games for Orlando, averaging 9.7 points and 10.0 rebounds.

2016 NBA Skills Challenge: Multiple frontcourt players will participate for the first time in the event's 14-year history. Rookie sensation Karl-Anthony Towns and All-Stars DeMarcus Cousins, Anthony Davis and Draymond Green join guards Jordan Clarkson, CJ McCollum, Emmanuel Mudiay and All-Star Isaiah Thomas in the three-round, obstacle-course competition that tests dribbling, passing, agility and three-point-shooting skills. A head-to-head, bracket-style tournament format will be used for the second year in a row.

SUNDAY:

2016 NBA All-Star Game: The 65th NBA All-Star Game marks the All-Star farewell for Kobe Bryant, an 18-time All-Star who holds the record for most points in All-Star Game history (280) and shares the record for most All-Star Game MVPs (four, with Bob Pettit). Bryant's scoring total puts him two points ahead of LeBron James, who will start the All-Star Game for the 12th year in a row. The midseason classic at Air Canada Centre also features the all-time leaders in All-Star Game scoring average (Kevin Durant, 26.0 ppg) and assist average (Chris Paul, 12.9 apg). In addition, first-time All-Star selection Draymond Green joins Stephen Curry and Klay Thompson to give NBA-leading Golden State three players in an All-Star Game for the first time since the 1975-76 season. The Raptors also have multiple All-Stars, as Kyle Lowry and DeMar DeRozan give a host city two guards in an All-Star Game for the first time since Jerry West and Gail Goodrich represented the Lakers in the 1972 game in Los Angeles. (8 p.m. ET, TNT/ESPN Radio; Sportsnet ONE and TSN in Canada)

MORE NBA ALL-STAR WEEKEND INFO:

2016 NBA All-Star Voting Results for All-Star game starters

InsideHoops is in Toronto hitting all the main All-Star events and a bunch of the best parties, and we'll be sure to tell you all about it.



---------------------

2015 NBA All-Star Weekend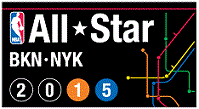 2015 NBA All-Star weekend in New York City was shockingly cold outside but as hot as expected inside. The 64th NBA All-Star Game, which took place Sunday, Feb. 15 at Madison Square Garden, featured a win by the West, monster scoring by Russell Westbrook, great all-around play from James Harden, and for the losing side some big buckets by LeBron James.

The weekend also featured a legendary dunk performance by Zach LaVine and a fantastic second-place performance by Victor Oladipo, an incredible 3-point shooting contest that Stephen Curry crushed, a really fun Skills Challenge that InsideHoops.com feels is the best ever, and much more. Basically, 2015 NBA All-Star weekend was awesome. Here's what went down:

ALL-STAR SUNDAY RESULTS:

In the 2015 NBA All-Star Game the West beat the East 163-158. Russell Westbrook won All-Star MVP. James Harden had a monster game for the West as well.

ALL-STAR SATURDAY RESULTS:

Slam Dunk Contest: Victor Oladipo unleashed some great dunks, but Zach LaVine defied physics and unleashed a legendary performance to win it.

Three-Point Contest: Klay Thompson, Kyrie Irving and Stephen Curry reached the championship round. And then Steph Curry went insane and won big.

Skills Challenge: Patrick Beverley beats Brandon Knight in the finals.

Shooting Stars: Team Bosh wins, while Team Westbrook came in second.

ALL-STAR FRIDAY RESULTS:

In the 2015 Rising Stars Challenge, the World team beat the U.S. team 121-112. Andrew Wiggins won MVP.

In the NBA All-Star Celebrity Game, Kevin Hart won yet another Celeb game MVP. And word is, he's going to go out on top and retire from the event. There are other mountains to conquer.

2015 NBA ALL-STAR WEEKEND SCHEDULE

Friday, Feb. 13
NBA All-Star Celebrity Game
Rising Stars Challenge
Saturday, Feb. 14
All-Star Saturday Night | TNT
- Shooting Stars (1st Event)
- Skills Challenge (2nd Event)
- Three-Point Contest (3rd Event)
- Slam Dunk Contest (4th Event)

Sunday, Feb. 15
NBA D-League All-Star Game | NBA TV (Dunk contest at halftime)
NBA All-Star Game | TNT

Final NBA All-Star voting results by fans for starters of the 2015 All-Star game. Future NBA All-Star weekend locations: Toronto will host 2016 NBA All-Star weekend. The 2017 and 2018 All-Star host cities haven't been announced yet.



-----------------

2014 NBA ALL-STAR WEEKEND RESULTS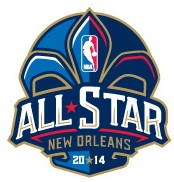 Celebrity Game: Arne Duncan and Michael B. Jordan shine
Rising Stars Challenge: Andre Drummond wins MVP
Shooting Stars: Bosh, Dominique, Swin Cash win
Skills Challenge: Damian Lillard and Trey Burke win it
NBA Three-Point Shootout: Marco Belinelli wins it
Slam Dunk contest: John Wall shines
2014 NBA All-Star game: East wins, Kyrie Irving MVP

2014 NBA All-Star Weekend Schedule

FRIDAY, FEB. 14 (All Times Eastern/ET)

• 10:30 a.m. | Rising Stars Challenge Practice | NBA TV
• 12:30 p.m. | NBA All-Star 2014 Media Day | NBA TV
• 3:30 p.m. | Basketball Hall of Fame announcement | NBA TV
• 7 p.m. | NBA All-Star Celebrity Game | ESPN
• 9 p.m. | Rising Stars Challenge | TNT

SATURDAY, FEB. 15 (All Times Eastern/ET)

• Noon | East/West Practice & player interviews | NBA TV
• 3 p.m. | NBA D-League All Star Game and Dream Factory | NBA TV
• 5 p.m. | The Big O (Oscar Robertson Special) | TNT
• 7 p.m. | Adam Silver news conference | NBA TV
• 7 p.m. | NBA on TNT All-Star Challenge | TNT
• 8 p.m. | TNT NBA Tip-Off | TNT
• 8:30 p.m. | All-Star Saturday Night | TNT

-- Shooting Stars (1st Event)
-- Skills Challenge (2nd Event)
-- Three-Point Contest (3rd Event)
-- Slam Dunk Contest (4th Event)

SUNDAY, FEB. 16 (All Times Eastern/ET)

• 1 p.m. | Legends Brunch | NBA TV
• 6 p.m. | Pregame Concert | NBA TV
• 6:30 p.m. | NBA Style showcase | TNT
• 7 p.m. | TNT NBA Tip-Off | TNT
• 8 p.m. | 63rd NBA All-Star Game | TNT

2014 NBA All-Star Weekend Info

The 2014 NBA three-point shootout participants: Stephen Curry, Kyrie Irving, Joe Johnson, Damian Lillard, Kevin Love, Bradley Beal, Marco Belinelli and Arron Afflalo. More: Full 2014 NBA Three-Point Shootout info.

The 2014 NBA Slam Dunk Contest participants: Paul George, Damian Lillard, John Wall, Harrison Barnes, Ben McLemore and Terrence Ross. More: Full 2014 NBA Slam Dunk Contest info.

The Rising Stars Challenge teams were picked by "general managers" Chris Webber and Grant Hill. This is the former "rookie" game. It's a mix of the best rookies and the best second-year players, in a fun, action-packed exhibition game. More: Full 2014 Rising Stars Challenge game info.

Also see the participants and info for this year's Shooting Stars and Skills Challenge events.

The 2014 NBA All-Star game is Sunday, February 16.

The final NBA All-Star Voting Results are in. See the exact vote totals.

Also, here's who was listed on the official NBA All-Star ballot for 2013-14. It comes out very early in the season, so there are always a few players listed who didn't deserve it, and some guys left off the list who belonged there. The actual ballot doesn't matter as much anymore though as fans can vote via Twitter, the (regular) web, etc. and select anyone, whether they were on the official ballot or not.

Feb. 15, 2014: New NBA commissioner Adam Silver said the planning for next year's All-Star Weekend in New York is going well and talked about some changes that could take place. It already will be different, as the Friday and Saturday events will be at Barclays Center and Sunday's All-Star Game will be at the Garden. But Silver, in his first state of the league address, said instead of the fan-friendly Jam Session that features interactive basketball activities, the NBA might do something involving all five boroughs. -- New York Newsday





------------------

OLDER INFO:

It's coming! 2013 NBA All-Star weekend is scheduled for February 15-17; location is Houston, Texas. Fan voting for starters of the 2013 NBA All-Star game ended January 14. The All-Star game starters were announced January 17. The date of the 2013 NBA All-Star game is February 17 at 8 p.m. ET. Houston has previously been host of NBA All-Star weekend in 1989 and 2006.

2013 NBA ALL-STAR WEEKEND SCHEDULE

FRIDAY, FEB. 15 All-Star Schedule (All Times ET)
• 10:30 a.m | Rising Stars Challenge Practice | NBA TV
• Noon | Basketball Hall of Fame announcement | NBA TV
• 12:30 p.m. | NBA GameTime: All-Star interviews | NBA TV
• 7 p.m. | NBA All-Star Celebrity Game | ESPN
• 9 p.m. | Rising Stars Challenge | TNT

SATURDAY, FEB. 16 All-Star Schedule (All Times ET)
• Noon | East/West Practice & Player Interviews | NBA TV
• 3 p.m. | 2013 D-League All Star Game | NBA TV
-- D-League Dunk Contest at halftime
• 7 p.m. | Comissioner Stern news conference | NBA TV
• 8:30 p.m. | NBA All-Star Saturday Night | TNT
-- 2013 Shooting Stars Competition (1st Event)
-- 2013 Skills Challenge Competition (2nd Event)
-- 2013 Three-Point Shootout (3rd Event)
-- 2013 NBA Slam Dunk contest (4th Event)

SUNDAY, FEB. 17 All-Star Schedule (All Times ET)
• 1 p.m. | Legends Brunch | NBA TV
• 6 p.m. | All-Star game Pre-Concert | NBA TV
• 7 p.m. | TNT NBA Tip-Off | TNT
• 8 p.m. | NBA All-Star Game | TNT

More 2013 NBA All-Star weekend info:
• NBA All-Star voting results
• More coming



-----

2012 NBA ALL-STAR WEEKEND (FEB. 24-26)
Everybody's favorite annual celebration of the best and brighest stars of basketball is coming. Orlando, Florida will be the host city of 2012 NBA All-Star Weekend, which will take place February 24-26. The date is slightly later than usual this season due to schedule changes from the NBA lockout.

(2013 NBA All-Star weekend host city will be Houston, Texas. The dates are Feb. 15-17. The date of the 2013 NBA All-Star game is Sunday, February 17.)

A bunch of hot NBA videos have been added. Some great All-Star highlights on that page.

On Saturday, Jeremy Evans won the NBA's slam dunk contest. Read the live event notes.

Kevin Love won the three-point shootout. Wild that a great rebounding big-man can also hit threes like K-Love.

Tony Parker won the Shooting Stars competition. Read the full scores.

Team New York won the Shooting Stars competition. Allan Houston still has a legit jumpshot. And Kenny Smith won praise as well, even though his team lost.

On Friday, Kyrie Irving rocked the rookie/sophomore game and hit an insane 8-of-8 from three-point range. Read how it all went down in the Rising Stars Challenge.

Here's the Kyrie Irving interview after he won Rising Stars MVP and led his team to victory.

BEFORE THE NBA ALL-STAR WEEKEND STARTED

The participants for the Skills Challenge competition are as follows: Stephen Curry, Kyrie Irving, Tony Parker, John Wall, Russell Westbrook and Deron Williams.

The participants for the Shooting Stars competition were announced. Click the link to check out the competitors.

The rosters for the Rising Stars Challenge (Rookie Challenge) game were picked by Shaquill O'Neal and Charles Barkley, of Turner Sports. The teams are now mixed, instead of just rookies vs sophomores.

The NBA Slam Dunk contest participants are: Jeremy Evans, Paul George, Derrick Williams and Chase Budinger. Due to a sore knee, Iman Shumpert pulled out of the event.

On February 15, the NBA Three-Point Shootout participants were announced: James Jones, Joe Johnson, Kevin Love, Ryan Anderson, Anthony Morrow and Mario Chalmers will be in the competition. Read more.

On February 7, 2012 it was announced that the Rookie Challenge game at All-Star weekend, which used to pit the best rookies against the best sophomores, will now mix the rookies and sophomores together. And it's now called the Rising Stars Challenge. Read about it.

The starters for the 2012 NBA All-Star game, as determined by NBA All-Star Voting Results, are as follows:

East All-Star Game Starters:
G: Derrick Rose, Dwyane Wade
F: Carmelo Anthony, LeBron James
C: Dwight Howard.

East All-Star Game Reserves:
Deron Williams, Rajon Rondo*, Luol Deng, Andre Iguodala, Paul Pierce, Chris Bosh, Roy Hibbert

* Rondo was picked as a replacement for injured guard Joe Johnson

West All-Star Game Starters:
G: Chris Paul, Kobe Bryant
F: Kevin Durant, Blake Griffin
C: Andrew Bynum.

West All-Star Game Reserves:
Steve Nash, Tony Parker, Russell Westbrook, LaMarcus Aldridge, Dirk Nowitzki, Kevin Love, Marc Gasol



2012 NBA ALL-STAR WEEKEND INFO

When: Friday, February 24 - Sunday, February 26
Where: Amway Center in Orlando, Florida
Why: Because All-Star basketball events are fun! It's a celebration.

KEY NBA ALL-STAR LINKS

NBA All-Star Voting Results: Fan voting for starters of the 2012 NBA All-Star game is still ongoing. Those are the latest voting results.

NBA All-Star ballot: The list of players on the 2012 All-Star ballot.

2012 NBA All Star Weekend Schedule

Note: This is the expected schedule. But none of this has been officially announced yet. Some of the smaller events may change or be shifted around. We'll update this page when official All-Star info comes out, which should be pretty soon.

As of now, none of the participants in any of the events are known yet.

Friday, Feb. 24
- Celebrity game
- D-League Dream Factory events
- Rookie Challenge game

Saturday, Feb. 25
- D-League All-Star game
- Slam Dunk contest
- 3-Point shootout
- SKills Challenge
- Shooting Stars

Sunday, Feb. 26
NBA All-Star Game

Much more NBA All-Star information still coming

Older links that will be updated when the info exists:
- All-Star reserves and complete rosters
- All-Star Blog
- All-Star Entertainment
- All-Star: By the Numbers
- All-Star Injury Replacements




---


2010 NBA All-Star Weekend
February 12-14, 2010

2010 NBA All-Star weekend is in Dallas, Texas. A twist this year is that instead of the main All-Star weekend events taking place in a basketball arena, they'll be in a football stadium: the home of the Dallas Cowboys.

Read the regularly-updated NBA All-Star Blog

2010 NBA ALL-STAR WEEKEND SCHEDULE

Friday, Feb. 12
NBA Celebrity Game: Michael Rapaport was given MVP even though he was terrible. Special K Daley scored 18. Terrell Owens had 10 in a loss.
Rookie Challenge Game: Rookies beat Sophomores 140-128. Tyreke Evans (26 points) won MVP. DeJuan Blair (22 points, 23 rebounds) probably deserved it. In the loss, Russell Westbrook scored 40.
(Halftime Dunk-In between DeMar DeRozan and Eric Gordon was won by DeRozan. So, he'll be the 4th dunker in Saturday's contest.)
D-League Dream Factory Events: Pat Carroll (Iowa Energy), Trey Gilder (Maine Red Claws) and Carlos Powell (Albuquerque Thunderbirds) won Shooting Stars. Dar Tucker won the D-League dunk contest. Andre Ingram won the D-League 3-point shootout.

Saturday, Feb. 13
D-League All-Star game: The West beat the East, with Brian Butch taking the game's MVP award.
NBA HORSE: In All-Star HORSE, Kevin Durant beat Rajon Rondo, with Omri Casspi coming in third of the three.
Shooting Stars: Team Texas, with Dirk, Kenny Smith and Becky Hammon, took it.
Skills Challenge: Steve Nash beat Deron Williams in the final round.
Three-Point Shootout: Paul Pierce beat Chauncey Billups and Stephen Curry in the final round.
Slam Dunk Contest: Nate Robinson won his 3rd dunk title, beating DeMar DeRozan in the final round of what was widely considered a disappointing event this year.

Sunday, Feb. 14
8PM ET: 59th NBA All-Star Game TNT


2010 NBA ALL-STAR WEEKEND EVENTS

NBA All-Star weekend is a celebration of the league's biggest stars. It's about fun and entertainment just as much as it is about hoops. Basketball purists need to put their feelings aside, kick back, and simply enjoy the show. That's why NBA All-Star weekend exists.

All-Star Friday features the Rookie Challenge Game, which pits this year's best rookies against this year's best sophomores (second-year players). Expect lots of fast breaks, dunks and alley-oops, and not a lot of defense. It usually turns out to be a very fun game.

All-Star Saturday has several events, and two stand out far more than the rest. The Shooting Stars competition (won by Detroit in 2009) is a shooting competition featuring with teams that consist of one current NBA player, one current WNBA player and a former player. Fans generally care about this event the least, but it's still fun.

The Skills Challenge (won last year by Derrick Rose) is an indivdual competition where NBA players race through an obstacle course that involves dribbling, passing the basketball into some targets, and hitting certain shots. It goes by pretty quickly but is fun to watch.

Then we have the NBA All-Star weekend Saturday events that really matter to the basketball fan world: the Three-point shootout (last year's champ was Daequan Cook) and the Slam Dunk contest (won by Nate Robinson). No further explanation needed. These events have been around for a long time. They're the gems of the evening.

Also on Saturday is All-Star HORSE, which just started in 2009 and as far as we know isn't really an official NBA All-Star weekend event. It lagged a bit last year until Kevin Durant went bonkers, but could catch fire this time around.

And Sunday, February 14, the NBA All-Star game takes place. East starters are Dwyane Wade and Allen Iverson at guard, LeBron James and Kevin Garnett at forward, and Dwight Howard at center. West starters are Steve Nash and Kobe Bryant at guard, Carmelo Anthony and Tim Duncan at forward, and Amar'e Stoudemire at center. Related info includes final All-Star voting results, where fans chose the starters. And check out the players listed on the actual All-Star ballot.

The NBA All-Star reserves were announced on January 28, 2010. These are the players who will come off the bench in the big game. Check out who made it.


2010 NBA ALL-STARS

EAST NBA ALL-STARS
Guards: Dwyane Wade, Joe Johnson, Rajon Rondo, Derrick Rose
Forwards: LeBron James, Kevin Garnett, Chris Bosh, Paul Pierce, Gerald Wallace
Centers: Dwight Howard, Al Horford, David Lee*

East Starters: Dwyane Wade, Joe Johnson, LeBron James, Kevin Garnett and Dwight Howard.

WEST NBA ALL-STARS
Guards: Steve Nash, Deron Williams, Chauncey Billups*, Jason Kidd*
Forwards: Carmelo Anthony, Tim Duncan, Kevin Durant, Pau Gasol, Dirk Nowitzki, Zach Randolph
Centers: Amar'e Stoudemire, Chris Kaman*

West Starters: Steve Nash, Carmelo Anthony, Dirk Nowitzki, Tim Duncan and Amar'e Stoudemire.

All-Star Injury Replacements: Jason Kidd replaced Kobe Bryant (injured). David Lee replaced Allen Iverson (out due to personal reasons). Chris Kaman replaced Brandon Roy (injured). Chauncey Billups replaced Chris Paul (injured).

All-Star Starter replacements: If a starter is injured, the All-Star coach can choose the replacement from the remaining roster. So in the West, even though Bryant is a guard, Nowitzki replaces him in the lineup. And in the East, Iverson is being replaced by another guard, Joe Johnson.

InsideHoops.com is your home for complete NBA All-Star weekend coverage. We'll cover each event. Visit us regularly throughout 2010 NBA All-Star weekend. Enjoy it!


----------


2009 NBA ALL-STAR WEEKEND
FEB. 13-15, 2009

Each year, NBA All-Star Weekend features the league's best and brightest stars having fun showcasing themselves to the basketball fan world. All-Star Friday features the league's best rookies against the best sophomores. All-Star Saturday features the three-point shootout, slam dunk contest and a few other fun competitions. And on All-Star Sunday, 24 of the league's best stars play the actual NBA All-Star game. InsideHoops.com has full coverage of everything.

Updated Regularly: NBA All-Star Blog


Everything that happened on Friday and Saturday has notes/recaps. Click below on any event.





----------------------------------------------------------------


2008 NBA ALL-STAR WEEKEND



Each year NBA All-Star Weekend features the league's best and brightest stars having fun and showcasing themselves to the world. Friday features the league's best rookies against the best sophomores, Saturday features the three-point shootout and slam dunk contest, and Sunday delivers the All-Star game. Plus more.

Hit our All-Star Blog constantly. It's updated every hour or two all weekend long.

From Sunday: All-Star game: East 134, West 128. LeBron MVP | LeBron James interview: He praises Turkoglu | Joe Johnson interview: reppin' the Hawks | Ray Allen ponders overseas expansion | Rasheed on being named All-Star | Jamison talks Wizards offense | Chris Bosh on his web videos | Caron Butler on being an All-Star | Bosh to start in Garnett's place

From Saturday: Kings trade Mike Bibby to Hawks | Full Dwight Howard interview after winning Dunk contest | Chris Paul interview after losing Skills Challenge | Dwight Howard wins Slam Dunk contest | Jason Kapono wins 3-point Shootout | Deron Williams wins Skills Challenge | San Antonio wins Shooting Stars | Richard Hamilton interview: Long, must-read on lots of stuff | Dwyane Wade interview: Quick reaction to Shaq trade | Jeremy Richardson wins MVP of D-League All-Star game

From Friday: Celeb Game notes | Rookie Challenge notes | Kobe Bryant interview | Carmelo Anthony interview | Jason Kidd interview | Dirk Nowitzki interview | D-League Dream Factory results


Additional 2008 NBA All-Star weekend info:
NBA All-Star Entertainment: 2008 Performers
Final fan voting results for all-star game starters
All-Star Weekend 'by the numbers'
All-Star injured player replacements

MORE DETAILED EVENTS SCHEDULE



NBA All-Star Celebrity Game
A celeb-filled game for fun, this year with Master P, Chris Tucker, Deion Sanders, Common and others. More. 7PM on ESPN

NBA Rookie Challenge
The best rookies battle the best sophomores, featuring Kevin Durant, Jeff Green, Al Horford, Yi Jianlian, Sean Williams, LaMarcus Aldridge, Andrea Bargnani and others. More. 9PM ET on TNT





NBA Shooting Stars
Shooting contest between four teams, each with a current NBA player, current WNBA player and retired NBA legend. Featuring Chauncey Billups, Bill Laimbeer, Chris Duhon, BJ Armstrong, Amare Stoudemire, Eddie Johnson, Tim Duncan and David Robinson. More.

Skills Challenge
Players shoot, dribble and pass through obstacle course as fast as possible, featuring Jason Kidd, Chris Paul, Dwyane Wade and Deron Williams. More.

Slam Dunk Contest
Four dunkers throw down their best slams. Returning champ Gerald Green battles Dwight Howard, Jamario Moon and Rudy Gay. More.

Three-point Shootout
Famous three-point shooting contest with returning champ Jason Kapono plus Dirk Nowitzki (replacing Kobe Bryant), Daniel Gibson, Richard Hamilton, Steve Nash and Peja Stojakovic. More.





NBA All-Star Game
All-Star Weekend's main event, featuring the league's best and brightest stars, including LeBron James, Carmelo Anthony, Dwyane Wade, Dwight Howard, Allen Iverson, Steve Nash and more. More.