---
---
---
THROUGH THE FIRE a great, must-see hoops film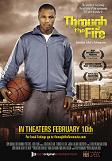 No matter what plans you may have for this weekend, at least a few hours will be terrific -- provided you go catch a fantastic, must-see basketball documentary that hits select cities tonight.

Through The Fire tells the tale of basketball star Sebastian Telfair as he spends his high school year playing basketball and deciding whether to jump straight to the NBA or attend the University of Louisville, where he'd be coached by the legendary Rick Pitino.

Telfair, the cousin of NBA star Stephon Marbury and brother of overseas pro baller Jamel Thomas, grew up in Brooklyn's Coney Island neighborhood and like his relatives went to Lincoln High School.

In the phenomenon of poor kids from urban ghettos passing up traditional means of upward mobility for the win-it-all/lose-it-all gamble of professional sports, Telfair becomes a focal point of the debate.

Through The Fire shows us strong personalities yanking Telfair in one direction or the other. We gain insight about the manufacturing of Telfair into a likeable, marketable item. We see washed-up players in the projects who wished they were Marbury or Telfair but failed, sharing their views. We see extended family and friends doing their best to hang onto Telfair and be his best friend, uncensored views from his coach, lip service from a king of the sneaker world, and much more.

And of course, we see awesome game footage of Telfair at his best.

Hardship and the grim economics of being a poor kid in a tough hool is a prevailing theme in the film. As is the goal of being rich, buying cars for loved ones, ruling the world, getting a shoe deal, making the NBA and living a dream that countless kids around the globe have dreamed.

What's more important, getting an education or making millions of dollars before the age of 21? Watching this story unfold is fascinating.

I've seen almost every basketball movie/documentary that's come out in the last 30 years, and Through The Fire is one of the only ones that kept my attention from start to finish. Every minute interested me.

The film was a Spotlight Selection in the 2005 Tribeca Film Festival, Winner of Best Documentary in the 2005 Urbanworld Film Festival, and Audience Award Winner of Best Documentary in the 2005 AFI Fest.

Ryan Jones of Slam Magazine recently praised the film: "With incredible access and insight, Through The Fire illuminates one young star's hoop dreams and hard-knock realities," said Jones. "Thoroughly compelling and guaranteed to make you Sebastian Telfair's biggest fan."

I definitely recommend all basketball fans catch Through The Fire. Go see it tonight or this weekend.

OPENING TODAY IN NEW YORK: IFC Center (323 Avenue of the Americas), Magic Johnson Theatre (Harlem 2309 Frederick Douglass Blvd), UA Sheepshead Bay Stadium 14 (3907 Shore Parkway Brooklyn).

OPENING TODAY IN LOS ANGELES: Magic Johnson Theatre (4020 Marlton Ave. Los Angeles), Landmark Regent Theatre (1045 Broxton Avenue, Westwood).

OPENING TODAY IN BOSTON: Coolidge Corner Theatre (290 Harvard Street, Brookline)

OPENING TODAY IN PORTLAND, OREGON: The Hollywood Theatre (4122 NE Sandy Blvd), Regal Tigard 11 Cinemas (11626 S.W. Pacific Hwy, Tigard).

The film opens February 17 in San Antonio and Toronto, February 24 in Washington DC, and other cities and dates soon.

Jeff Lenchiner is the editor of InsideHoops.com.