Tim Hardaway Jr interview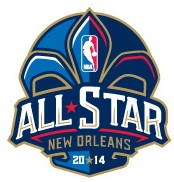 New York Knicks rookie Tim Hardaway Jr. went wild in Friday's Rising Stars Challenge at 2014 All-Star weekend, shooting 12-of-23 with 7-of-16 from three-point range to finish with a game-high 36 points in a loss. Here's what Hardaway Jr said after the event:

Question: Dion Waiters said that he owed you for a 3 that you jacked when you guys were up big in a TNT game earlier in the season. Did you know something like this was coming?

Tim Hardaway Jr: Yeah, he talked to me about it before the game and during the game, and we were just trying to do a great job of just getting the fans involved. It was kind of dead in there, and we just wanted to just start something, a little one-on-one battle here and there. And it was great. We saw the fans standing up, saw K.D. and James Harden on the sideline getting into it as well. So it was great.

Question: This had nothing to do with the two of you, this was all about getting the fans involved?

Hardaway Jr: No, I mean, he -- the only reason why he said that was because on TNT it was a shot clock was running down so I came down and just shot the 3. I just jacked the 3, and it went in. And it was towards the end of the game. But we had to take the shot, so I might as well. I said I might as well just shoot it.

Question: Trey was just talking about just feeling you were hot and getting you the ball. How nice was it to get hot like that with Trey on the floor too?

Hardaway Jr: It was good. It was great for him to say that and for the coach to give me some plays to run out there just to free me up and get the ball in my hands and just go out there and just shoot. It was great to have my teammates finding me out there on the court. And none of this would have been possible if Steve wasn't setting great screens and Mason wasn't setting great screens and the guards weren't finding me on the break. So it was just a fun opportunity just to play with these guys.

Question: This being your rookie year, your first experience in the All-Star Game, how does it feel to come out here and perform like you did tonight in front of the fans?

Hardaway Jr: It feels great. It's a wonderful opportunity. You got to enjoy the moment, embrace it, and just go out there and have fun. That's what I was just trying to do, just go out there and have fun and just soak up all the energy that the fans were giving us.

Question: Yo worked hard, hitting threes and putting on a show. Think your confidence will increase after this?

Hardaway Jr: Yeah, hopefully it can continue moving forward. I think that I shot the ball good, but it doesn't matter, this is all about me having a great time with my rookie counterparts and the sophomores and going out there and just enjoying the moment, like I said.

Question: Looked like at one point you made a move to maybe untie Drummond's shoe there. Was that possible a little tribute to your teammate?

Hardaway Jr: No, I didn't untie his shoe, though, but I was just messing around. And that's all I can say. I mean, it wasn't no big deal. We were just joking around. So we needed something to laugh about.