2016 Utah Summer League basketball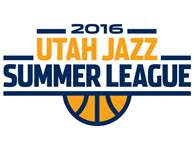 NBA action will return to Salt Lake City this summer with the 2016 Utah Jazz Summer League, presented by America First Credit Union and Siegfried & Jensen in association with the Utah Sports Commission, the team announced today. The Jazz will host the event at Vivint Smart Home Arena on July 4 and 5, before games shift to the University of Utahís Huntsman Center on July 7. In addition to the Jazz, the six-game, four-team event will also feature the Boston Celtics, Philadelphia 76ers and San Antonio Spurs for the second straight season.

Each participating team will play three games over the four-day span as part of daily double-headers on Monday, July 4; Tuesday, July 5; and Thursday, July 7. No league games will be played on Wednesday, July 6.

The Utah Jazz Summer League will feature newly drafted rookies seeing their first NBA action, along with young NBA players, select free agents and undrafted rookies looking for an opportunity. Current Jazzmen who played on the teamís entry in the 2015 Utah Jazz Summer League include Dantť Exum, Rodney Hood, Chris Johnson and Trey Lyles. Other current NBA players who participated in last yearís event include Kyle Anderson (San Antonio), Bryce Cotton (Memphis), Jerami Grant (Philadelphia), Richaun Holmes (Philadelphia), R.J. Hunter (Boston), T.J. McConnell (Philadelphia), Jordan Mickey (Boston), Jahlil Okafor (Philadelphia), Terry Rozier (Boston), Marcus Smart (Boston) and James Young (Boston).

Last year, attendance for the three-day 2015 Utah Jazz Summer League total was 31,751 fans for a daily average of 10,584, including a record 12,128 fans in attendance for the eventís final day as the Jazz completed a three-game sweep of the league.

Many past and current NBA stars have appeared in summer action in Utah early in their careers, including Carmelo Anthony (2003), Tim Duncan (1997), Kevin Durant (2008), Kyle Korver (2003), Paul Millsap (2006, 2007), Steve Nash (1997), Joakim Noah (2007), Dirk Nowitzki (1999, 2000), Tony Parker (2001) and Zach Randolph (2001).