NBA All-Star HORSE

Bringing a little bit of playground fun to All-Star Saturday Night, the NBA's H.O.R.S.E event, challenges some NBA stars to a game of shot-making skill.

Kevin Durant won the inaugural event in 2009 with a savvy mix of long-distance shooting and creativity. This year's event raises the stakes as the contest will be held on All-Star Saturday Night in front of a packed house in Dallas.

2010 Competitors: Kevin Durant, Rajon Rondo, Omri Casspi

This year's edition of NBA All-Star HORSE takes place Saturday, Feb. 13 at 7 p.m. ET. Catch it on TNT television.

InsideHoops.com will cover it here, so reload this page as the event happens.

----------


2009 NBA ALL-STAR HORSE COMPETITION
February 14, 2009

Kevin Durant, who a day earlier scored 46 points and won MVP of the 2009 NBA Rookie Challenge game, overcame a slow start and won the first-ever All-Star game of HORSE, an event TNT took it upon themselves to add to the weekend. He outlasted O.J. Mayo, who finished second, and Joe Johnson, who despite a hot start was the first of the three players to be eliminated.

Durant was ice cold at first, but as the event moved on found his outside shot and hit shot after shot from three-point range until the competition was eliminated.

NBA ALL-STAR HORSE PLAY-BY-PLAY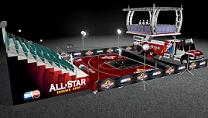 InsideHoops.com editor Jeff Lenchiner presents every single shot taken in the first-ever HORSE, from 2009 NBA All-Star weekend. The Horse game is from TNT, and isn't an actual "official" part of the weekend.

Although the actual game is HORSE, Geico sponsored the event for TNT, so they're calling it "G-e-i-c-o" instead of "H-o-r-s-e." But we'll stick to calling it Horse.

Kevin Durant went first, shooting a three-pointer from the far left corner, and missed it.

Joe Johnson went second, shooting a few feet closer than where Durant did. The shot bounced in. Durant matched it. So did Mayo.

Johnson was up again, and missed a three from the top of the key.

Durant tried to hit from out of bounds, behind and to the left of the basket, shooting over the backboard. He airballed it.

Mayo was up next. "Off the glass from the elbow" he said as he hit from just to the left of the free throw line. Johnson matched it. So did Durant.

Mayo is up again. "Off the glass in the sun," close to where he was before. But he missed.

Johnson was up, drove down the left side, put the ball through his legs for a left-handed layup, and hit it. Durant blew it, losing the ball and being blocked by the bottom of the backboard, getting an "H."

Mayo tried an over-the-backboard jumper from the left out of bounds, but missed it.

Johnson is up, shooting in the paint, stood backwards, and with one hand shot over his head, bouncing it in. Durant tried to match but missed badly, not even coming close. He has "H.O."

Mayo was up, and missed from outside.

Johnson goes about 10 feet behind the three-point line towards the right side, but missed.

Durant up, and misses a three from the right corner.

Mayo, from a sitting position, misses a mid-range jumper from the right elbow.

Johnson again goes for a between-the-legs, left-handed layup, this time from the right side, but misses.

Durant misses an outside jumper.

Mayo misses from the top of the key.

Johnson hits a deep left corner three-pointer. Durant misses and now has "H.O.R."

Mayo tries a one-handed outside shot and misses.

Johnson goes about 15 beet behind the right three-point elbow, sits down at a table behind a laptop, and fires a wild shot. It had a slight chance, but missed.

Durant misses from the right three-point elbow. He's totally awful so far. At this point I (InsideHoops.com editor Jeff Lenchiner) would have been better. That's right. I said it. Knowing full well that if Durant and I played one-on-one, he'd kinda win and stuff.

Mayo, realizing everyone stinks so far, goes up into the stands, about 10+ feet behind the top of the key three-point line and up in a seating area, hits what is by far the most fun shot of the day. Johnson has to match it, but misses it short by several feet, and gets an "H."

Durant goes far left, a good 12+ feet behind the right-side three-point elbow. A fun attempt, but misses.

If I (InsideHoops.com editor) was running this event, I'd be playing music the whole time, so at least everyone can groove while watching NBA players miss shots.

Johnson tries a running floater but misses it.

Durant misses from up top.

Mayo hits a left-handed jumper from a few feet behind the left side of the free throw line. Johnson tries to match it but shoots and airball, getting "H.O."

Durant drives and tries to bounce it off the backboard, catch and spin. He misses. Awful.

Mayo misses a bank shot from the right side.

Johnson, starting from the left side, drives and puts in a between the legs reverse layup. Durant, who looks asleep, misses it, and now has "H.O.R.S."

Mayo drives down the left, taps the backboard on the left side with the ball, then reverses it for a layup on the right side. Johnson easily matches it. Durant hits it as well.

Mayo up again and tries a sitting-down bank shot from a few feet outside of the right paint, but misses.

Johnson walks down the middle of the paint while spinning the ball on his finger, and tries to flick in a layup, but misses.

Durant, sitting on the scorer's table far out on the right in three-point range, misses.

Mayo misses from the top of the key.

Johnson goes all the way up in the announcer's booth high up behind the basket and tries a nearly impossible over the backboard shot which misses.

Durant goes behind the backboard on the right side, flips the ball off the back of the backboard, runs and jumps, catches it and flips in a layup. Mayo manages to match it. Johnson comes close, but misses, now getting "H.O.R."

Durant hits a three-pointer from the right elbow. Mayo misses it, getting his first letter, "H."

Johnson tries his earlier shot again, walking down the paint while spinning the ball on his finger, then trying to flick in a layup, but misses.

Durant hits a three from the left elbow. But Mayo matches it. Johnson misses, and now has "H.O.R.S."

Durant goes behind that scorer's table 10+ feet behind the three-point elbow on the left side, and drills an awesome shot. He's finally awake! Mayo tries to match but doesn't come close, and now has H.O."

So, to summarize, Mayo now has a ho, whereas earlier, Durant and Johnson both had hors, which when read allowed sounds like "whores." I will also point out how ridiculous it is that I just mentioned that. But hey, it's a game of Horse played outside, not a political summit, so I'm taking liberties.

Actual, political summits often focus on taking liberties, too.

Anyway, as for basketball and this game of Horse:

Johnson misses from the left.

Mayo goes to the free throw line and tries an underhand, two-hand free throw, but misses.

Johnson shoots an eyes-closed free throw, comes close, but misses.

Durant goes right baseline, drives, tosses it off the side of the backboard, tries to catch for a reverse layup, but misses.

Mayo, from the right elbow, shoots a one-leg, one-hand shot. It banks in, but he didn't call it, so the other players can swish or bank it, whatever they want. Johnson, facing elimination, hits it! So does Durant! That was sweet.

Mayo again tries his Rick Barry-style underhand free throw. Johnson, who said he had no experience with that shot, airballed it, and is eliminated, with "H.O.R.S.E."

We're down to Durant, who has "H.O.R.S." and Mayo, who has "H.O."

Durant hits a three-pointer from the right elbow. Mayo misses and now has "H.O.R."

Durant hits another three. Mayo matches.

Durant another three, from the left corner. It bounces three times on the rim, then goes in. Mayo misses badly, hitting the side of the backboard. Both players now have "H.O.R.S."

Durant hits another three, from the left corner. At this point he's hitting outside shots like layups. Mayo misses and now has "H.O.R.S.E." Game over!

Durant, who started as cold as an NBA player could be in a shooting competition, wins it.

InsideHoops.com suggestions for this event next year: (1) Play cool music the whole time. It's better for the fans at the event, the players themselves, and the viewers at home. (2) Give the players only about 10 seconds to shoot, so it all moves quicker. You don't want to force them to run the whole time, but the event definitely could have been sped up, by a lot.

Other than that, NBA All-Star HORSE was fun.


HORSE PREVIEW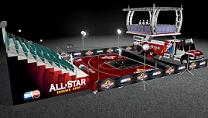 TNT today announced the addition of the popular basketball shot-making game H-O-R-S-E to its programming lineup during its four days of NBA All-Star weekend 2009 coverage from February 12-15, in Phoenix, Arizona. The H-O-R-S-E game will air live during TNTís two-hour Inside the NBA (5 - 7 p.m. ET) on Saturday, February 14.

The NBA All-Star HORSE players are Kevin Durant, O.J. Mayo and Joe Johnson.

The game will take place on a 45' X 50í court alongside the network's new NBA on TNT Rig at the NBA All-Star Block Party, the NBA's new outdoor All-Star event. The NBA on TNT Rig will also serve as the host set for other studio shows on TNT and NBA TV throughout the weekend. The rig can rise up to 14 feet off the ground and rotate to show views of the arena, downtown area and NBA All-Star Block Party, can seat up to 117 guests and will be open to the public on select days. Calling the action from the rig will be Ernie Johnson, along with analysts Kenny Smith and Chris Webber.

The game will use a traditional format in which three players will establish the playing order. Once a shot is made, the next player in the predetermined order will attempt the same shot. If that player misses, he is assigned a letter (ex. H for the first miss, O for the second, etc.). The player following the miss can pick a new shot with which to challenge his competitors. There is no dunking allowed and players will have 24 seconds each to create and mimic shots. Players remain in the game until they have missed five shots following made baskets, thus spelling the word H-O-R-S-E. An NBA referee will be assigned to authenticate the new shots (that the player executed what he announced) and any mimic shot.

Read fan reaction and discuss your own opinion in this forum topic.