Seattle SuperSonics to retire Spencer Haywood jersey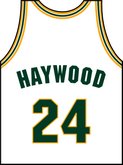 The Seattle SuperSonics announced today that Spencer Haywood, Seattle's first pro sports superstar who averaged 24.9 points and 12.1 rebounds per game in his five years with the Sonics, will have his No. 24 jersey retired. The retirement ceremony, presented by KeyBank, will be held on Monday, Feb. 26 when the Sonics host the Portland Trail Blazers.

Haywood's 24 will be the sixth Sonics jersey to be retired in franchise history. The other five retired numbers are 32 (Fred Brown), 19 (Lenny Wilkens), 10 (Nate McMillan), 1 (Gus Williams) and 43 (Jack Sikma). In a special halftime presentation on Feb. 26 presented by KeyBank, Haywood will be joined by the other five members of the fraternity on the court as his No. 24 jersey will be raised to the rafters of KeyArena.

"This is truly a great honor for me," Haywood said. "My time in Seattle was very memorable, and I had a lot of fun playing on some great teams with some great players. To join the ranks of players like my teammates Lenny Wilkens and Fred Brown means a lot to me. I'm grateful to the Sonics for retiring my jersey. To see the No. 24 hanging in the rafters in Seattle will be a dream come true."

From 1970-75, there was no bigger sports figure in the Pacific Northwest than Haywood. Haywood, who earlier this season was named to the Sonics' 40th Anniversary All-Time team by the fans, led Seattle to its first playoff series in the 1974-75 season. His 24.9 points per game is still the highest career average in franchise history. His best season came during the 1972-73 season when he averaged 29.2 points and 12.9 rebounds per game, and he remains fifth all-time in rebounding for the Sonics with 3,934. He was named to the All-NBA First team twice, and the All-NBA Second team twice. He was also named to the NBA All-Star team four times, three as a starter.

"Spencer Haywood was a special player in the NBA and a true Sonics legend deserving of every honor passed his way," said Sonics & Storm owner Clayton Bennett. "Few athletes are fortunate enough to be able to share the kind of talent of Spencer Haywood. It is thrill for us to be a part of this historical moment in Sonics history. This honor is well-deserved, and we look forward to the jersey retirement ceremony on the 26th."

The last time a Sonics number was retired was March 26, 2004 when Gus Williams' No. 1 was raised to the rafters. That special presentation also celebrated the 25th anniversary of the 1979 Sonics championship team.