iHoops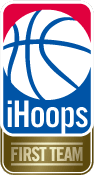 The NCAA and NBA have named their joint youth basketball initiative iHoops, Kevin Weiberg, iHoops CEO, and Duke University men's basketball coach Mike Krzyzewski announced today at a press conference prior to Game 3 of The Finals in Orlando. Nike and adidas will serve as founding partners for the initiative, and adidas Vice President of Global Basketball Lawrence Norman and Nike Vice President of Global Sports Marketing John Slusher were on hand to participate in the announcement.

Note that iHoops, created in 2009, is not to be confused with the well-established, 10+ year-old basketball company InsideHoops.com, which first began publishing in 1998 and was featured in famous magazines as early as 2000.

The NCAA and NBA established iHoops to provide a structure and develop programs to improve the quality of youth basketball in order to enhance the athletic, educational and social experience of the participants.

"With today's announcement, we have laid a very solid foundation for achieving our goal to improve the environment in youth basketball for boys and girls, parents, coaches, and officials," said Weiberg. "We are pleased to have adidas and Nike join as iHoops founding partners, collaborate with the key stakeholders in American basketball, and support the efforts for the long-term good of the game."

Board members for the iHoops initiative include Krzyzewski, NCAA Senior Vice President of Basketball and Business Strategies Greg Shaheen, NBA Deputy Commissioner Adam Silver, NBA Executive Vice President of Basketball Operations Stu Jackson, NBA Executive Vice President of Social Responsibility & Player Programs Kathy Behrens, and attorney and college basketball television analyst Len Elmore.

"iHoops is a positive response to the need for basketball's key stakeholders to take a more unified approach to youth basketball," said Krzyzewski. "I am proud to be a part of the iHoops initiative to support those who play the game and to ensure that we have a system that puts the kids' well-being first."

iHoops will provide supporting services and programs for youth basketball players ages 6 to 18, their parents, coaches, officials, and team and event administrators.

Active.com (a division of The Active Network, Inc.) is the technology provider for iHoops.com and will operate the site, which will launch this fall. iHoops.com, set to become the premier youth basketball online community and network in the U.S. and Canada, will facilitate communication and be an essential resource for players, coaches, officials, parents, and youth teams at all levels. iHoops.com will provide skill-training curriculum, certification programs for coaches and officials, and the opportunity to register for events, tournaments, and programs. In addition, the site will feature instructional videos, player profiles, and highlights from tournaments.

The addition of adidas and Nike as founding partners supports the initiative's goal to create a coalition of key stakeholders; including USA Basketball, the Amateur Athletic Union, the National Federation of State High Schools and its member associations, the major coaches associations, and other organizations that sponsor or support youth basketball programs.

"We are excited to partner with the NBA and NCAA in bringing this program to life," said Norman. "This partnership is a part of our continued focus on growing the sport by developing youth basketball in the US."

"Commitment to sport and providing inspiration to athletes is at our core," said Slusher. "As a founding partner of iHoops, we are excited to play a vital role in such a groundbreaking program that will enhance the quality of youth basketball on and off the court."

With basketball currently the number one U.S. participatory team sport with 23 million American boys and girls playing the game, iHoops provides a renewed emphasis on the health and safety of youth basketball participants. The initiative's online community and network of events will play a vital role in the game's continued growth.