The Game, its Players and other ISH

Call of the Year (so far) -- . During last week's Nets-Clippers dustup, called by Marv Albert and Steve Kerr on TNT, the Nets inexplicably ran a lob for Cliff Robinson that failed miserably. After a weighty pause, Kerr dryly intoned: "You know your offense is in trouble when you design an alley-oop for a 41-year-old man." I've been a huge Kerr fan since his storied college career at Arizona and throughout his somewhat unlikely multiple-title winning NBA career—the man is a demi-god in my hometown of Tucson, AZ, eclipsed only by Lute Olson in purity and holiness—but I never figured him becoming a top-shelf game-caller. With all the intolerable screaming heads calling basketball games these days, his levelheaded commentary is informative, funny—and soothing.

Vince -- If you missed Vince Carter's 30-foot, buzzer-beating game-winner against the Utah Jazz on Monday night, it deserves another look. The thing that I love about Vince's bomb is how calmly and casually he settled into the shot, and how it was truly an upright jump shot, not merely a heave. Want to understand how good VC is? Forget the dunking. Go to your local gymnasium or playground court and try to replicate his Utah game-winner: right-to-left between the legs dribble, hop step, rise and shoot. From 30 feet. See?

Many fans don't appreciate how difficult it is to shoot a regular NBA threeball, 23 feet 9 inches from the basket. The rim looks tiny from that distance, and it takes serious leg lift to get it there without using your shoulders to simply shot-put the ball. Vince made it look like a free throw… Bananas.

Boomba Clyde -- I've recently read and overheard some negative grumbling about Walt "Clyde" Frazier's colorful on-air announcing style ("Jamal: dishing and swishing!") or lack of in-depth analysis ("Balkman is ubiquitous and effervescent!"). Maybe some basketball watchers find his rhyming exhortations tired and a bit cheesy. Maybe they instead prefer the robotic, stat-driven analysis so common to ESPN/ABC, or the firm-grasp-of-the-obvious declarations of TNT's Doug Collins. Unless the aforementioned Kerr is on the mic, give me Clyde any day of the week. To all the haters: next time you score 36 points and dish 19 assists in Game 7 of the NBA Finals, embody everything that was cool about the 70s, walk with a still-fly pimp strut, eat a healthy low-carb diet, match a custard-yellow suit with baby blue gators and have a fresh signature shoe coveted by sneaker heads worldwide, then you can talk about Clyde. Until then, best be steppin'.

Grindin' -- Last week, I took in the Clipse at Bowery Ballroom. Hot show. During their performance of "Momma I'm So Sorry", Malice rapped "Minus the wicked jumper/street baller like the Rucker" and pantomimed the motion of a jump shot—and it looked nice! Dude clearly has perfect form. He's not very tall, but perhaps he's one of the better rapper/ball players out there.

This topic deserves further exploration, but here's a short list of talented rapper/ball players that I know of: 1) Cam' Ron, 2) Common, 3) Butterfly, formerly of Digable Planets.

Ball player/rappers? That's a whole 'nother story. Let's just say it's a bleak landscape, littered with carnage. The best ball player/rapper is Shaq, by far, who actually went platinum. Worst? Kobe. His flow is actually better in Italian than his flow in English. (Funny note on that clip: during Kobe's "rap" a ticker at the bottom of the screen reads "New Jersey Nets waive Ron Mercer.")

Los Herrmannos -- I won't say I saw it coming, but Bobcat forward Walter Herrmann finally broke out last weekend, clocking 20+ minutes against Golden State and dropping 18 points. Now, he probably won't do this every night, but he could be a fun option off the bench with his Fabio looks and wild game. He does big things for the Argentine national team, and has made it to the NBA despite an absurdly tragic past. Like to see him get more minutes…

LESPN -- Headed down to Grand St. on the Lower East Side last Sunday to check the Harold Hunter Memorial Basketball Tournament. Harold was a downtown scenester who most people know from the movie Kids, and who embodied the downtown skate/street art scene epitomized by brands like Supreme and aNYthing. Held at the Seward Park Rec Center, the gym filled up with skaters and white Gs, sipping on fruity drinks and laughing at the action. The on-court sneaker game—every dude had new Air Force or vintage Jordans—was frequently better than the actual games, which were grimy but entertaining nonetheless. Dudes were huffing after a couple minutes of play: apparently the muscles used for ollieing over curbs or pasting stickers on mail boxes aren't the same ones used in bball... Here's a pic, at right notice the dude wearing the fly 1992 Dream Team Jacket:




Senda a Salami -- After the tournament, my compatriots and I walked over to iconic LES eatery Katz's Deli for some hot pastrami goodness. Before the place closed, we took inventory of the incredible celebrity photos, and found these two of note. The first of Cardinal Hayes legend Jamal Mashburn: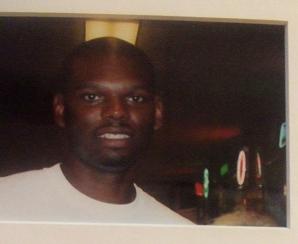 And this fresh pic of Kevin Garnett, rocking the ODB tribute T:




House of Windsor in the House -- While the Harold Hunter tourney was going on downtown, Prince Charles was hooping uptown. Charles' shooting prowess was captured by the local dailies—in this first pic, Sir Charles opted for one-handed tear-drop floater, while here he went with a Gervin-eque finger-roll which flummoxed—perhaps even bamboozled—his hapless defender.

Andrew Bangs is a writer and editor living in Queens, NY. Check out his feature piece in the February issue of KING magazine -- do not be distracted by the beautiful girls and focus on his lucid prose.