The Game, its Players and other ISH

Despite the exhaustive, end-to-end media coverage of the 2007 NBA All-Star event in Las Vegas, what went unsaid is that the events themselves can be stultifyingly boring and needlessly drawn out. In truth, the best moments from the whole thing can be summed up by a handful of 20-second clips and photos. Which are thus:

-Gilbert Arenas' trampoline dunk. Hilarious. Could we give him the Slam Dunk trophy, please?

-Shaq's dribble moves. No joke, he can take fools off the dribble! Pat Riley: iso Shaq on the wing against Jason Collins.

-Monta Ellis' windmill in the Rook/Soph game (the one off the bounce pass from Chris Paul). If I could dunk, I'd want it to look like that, with that exact sound effect ("plunk!").

-Chris Paul's one-handed oop catch. People rightfully go wild about Nate Robinson's dunking ability, but CP3 only has a couple inches on Nate (I've seen them stand next to eachother), and look what he did. Wild.

YBF: As everyone knows, the real fun at All-Star happens way off court. Besides Inside Hoops, my favorite coverage of Vegas All-Star was definitely on Young, Black and Fabulous. Check the photo of Christina Aguilera and Al Sharpton (?!) incorrectly making the Roc-A-Fella hand sign: ridiculous.

Blind Item: We heard some interesting rumors that TNT correspondent Craig Sager, he of the outlandish sideline suits, was spotted absolutely wasted, partially naked, screaming "I'm the Sabertooth, I'm the Sagertooth!!" in the bathroom at a prominent after party…

Bushwhacked: The irony of this is astounding: Reggie Bush dances around 275-pound, 'roid-chomping linebackers for an entire NFL season, but then pops an ankle playing against Nelly and Bow-Wow. (The Green Mile dude looks a little like Anthony Mason here.)

Prince = Sick Baller: Prince and Dave Chapelle sat courtside during the All-Star game, apparently only a few rows apart. Would've loved to see those two get in the game, and run "Darling Pick-y."

Frazier/Playier: Got a lot of support for my support of Walt "Clyde" Frazier in my last column. Since then I've seen Clyde pop up in these fly ads (see below) for Yonkers Raceway Casino, plastered all over the 7-train platform at Grand Central. Clyde is clearly a Person Into Making Profit…




Footie: What The Jump Shot recently made a foray across the pond, to Albion's shores (aka the UK), to drink mead, ale and lager, eat Cornish Pasties by the gross ton and take in a Premier League Football match. That's soccer to us Americans. Anyhow, I had great seats for Arsenal vs. Wigan Athletic at Arsenal's Emirates Stadium, a beautiful new arena constructed for the total enjoyment of the sport. The atmosphere at the match was incredible: once it began, you could feel the focus of the 60K-plus fans, closely watching every pass, every play, totally engrossed in the action of the sport. No jock jams, no mascot antics, no pyrotechnics, no "TV timeouts," no t-shirt cannons, no lattes, no BS. In other words, it was the exact opposite of an NBA game, where it sometimes seems as if basketball is an afterthought. The best player on the field, and who scored the game-winning header, was Czech Tomas Rosicky, who's a Nash-like handler, creator and scorer. Rosicky was just super-entertaining to watch. Here's a photo of Arsenal striker Thierry Henry taking a free kick. The shot curved wickedly in the air and missed the left pole by about 2 inches… Nasty.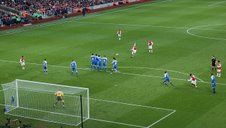 No Good Deed: There are a few basic, immutable tenets of basketball that, whether you're playing in the NBA, the NAIA or the Monday night game at a certain gym in Park Slope, Brooklyn, must be observed and obeyed. One of the most basic tenets is thus:

If a player is working hard on defense, boxing out, setting screens and generally playing hard, it's not unreasonable to expect that his (or her) teammates recognize this and AT LEAST make an effort to include said player in the offense. This DOES NOT mean that this player should shoot it the first time the rock comes their way, no, just that this player should AT LEAST be able to feel the leather on occasion. This is one of the simplest ways to foster and sustain team cohesiveness, short and long term, and its just good karmic practice: when an individual who's busting his or her posterior is rewarded, good things generally happen. Not always, but usually.

If this tenet is not obeyed, that hard-working player will inevitably grow resentful and discontinue the hustle. This tenet is at the crux of Andrei Kirilenko's recent tightness with his teammates, Jerry Sloan, owner Larry Miller (and, by proxy, the Mormon Nation). This beef stew may have simmered down since it boiled over a couple weeks ago, but it raised an interesting point: even at the NBA level, with uber-talented, highly-paid athletes literally jumping over each other, the basic principles of sharing the ball and team awareness are still paramount.

And AK deserves more looks. Few players in the NBA, or anywhere, for that matter, have as much talent as Kirilenko on the defensive side of the ball. Forget statistics, just focus on him for 3-4 consecutive possessions—he's always around the ball, always lurking, always a pest, a presence. He's just a beast, a crazy hybrid of Michael Cooper and Dikembe Mutombo. His impact on the defensive side of the ball is arguably as large as Nash or LeBron's effect on the offensive end.

Some say that he's not the same player he was before knee surgery, but I don't buy it. He looks pretty spry to me. Earlier this season he had a beautiful 10-point, 7-assist, 6-rebound, 3-steal, 2-block night against the Bulls. Who else gets stat lines like that?! Kirilenko always checks the opponents' best swingmen and forwards, which in the West includes Kobe, T-Mac, Ray Allen, Artest, Garnett, Duncan, etc. In other words, he faces a murderer's row of scoring talent without much complaint.

The Jazz have been playing well of late, entered the All-Star break at 35-17. No need to rock the ship, but at the very least AK deserves to be included in set plays even if he's not the intended "finisher," and certainly be involved within the flow of motion sets. At most, Sloan should run a couple post-ups for AK each half and Deron Williams should make a conscious effort to get him the rock in his favorite spots (the right corner). It's not like he's selfish or inept on offense: Kirilenko can hit outside shots with his feet set and is pretty freakin' athletic on the way to the cup. Yes, his handle is terrible. But so is recently anointed All-Star Memo Okur's, and he gets plenty of touches.

And besides, as the League's lone purveyor of the "faux hawk," he looks good in highlights.

He that doth protest too much: I only have one thought on the whole Tim Hardaway vs. John Amaechi batty baller situation: there's a thin line between homophobia and homoeroticism. Studies have shown that men who have engaged in homophobic attacks, either verbal or physical, have deep unresolved issues of their own. Ever notice how wildly male fans cheer during professional wrestling matches? Huge, scantily clad beefcakes slamming their bodies against each other, mimicking sexual positions… it's gay-er than the locker room at New York Sports Club's Chelsea location. Don't get me started on the NFL... I'm just saying…

Andrew Bangs is a writer and editor living in Queens, NY. His favorite karaoke song is "Wanksta" by 50 Cent.